The race organisation.

Firstly for all of you considering Nice as part of your triathlon plans next year I though you might like some feedback on the race organisation as I think there was certainly some gaps in last year's program which needed to be addressed and for the most part it was.

Positive improvements
There were more feed stations on the cycle course and also there were feed stations located in the transition areas which I don't recall from last year. Also there was much more ice available (perhaps because I was nearer the front that the back of the course this time, but that was still a great help. Also the organisation of the personal bags was much improved.
The bike course was excellent, a large presence of referees on motorbikes following the athletes and also a greatly improved road security team. The bike course had much more information, the distance was noted every 10K instead of every 20K and also the distances to the summits of the main climbs was painted on the roads which is a great psychological help. The different course management teams Security, feed station and referees all had different uniforms.
One wonderful thing was that they put your first name on your bib which was a real plus for the athletes and spectators. On the bike course we could encourage each other and on the run it was great hearing the spectators call out your name.
Negative
They obviously did not set out the swim course with the correct distance. Anyone at swim training will tell you that I can't do 1hour03, let alone the 1.9K split of 28 minutes. By my calculations, using the times of Rebou, Faure, Zamora, Chabaud compared to last year, I calculated that the course was short by about 450 meters moving my actual swim split to 1:11 which is about what I expected.
The bike course distances were off about 2-5 kilometres on each marker from my own counter through the course but at the end there was only 1K difference. They occasionally ran out of ice at the feed stations and did not share the ice between all the drinks. e.g. the Coke was always cold, but the water was usually warm.
They seemed to be understaffed for getting everyone checked in before the race.
Overall it seems that the organisers put more money into this year's event, interesting to see what happens next year as the entry was down over last year. Are they making money? Hopefully the entry will be up next year based on more positive feedback. The organisers, Triangle sports are the 2nd largest licensee of IRONMAN running the Austria, South Africa and Monaco events with another 70.3 to be added in Austria. Nice is an ideal setting for an Ironman. The city and the course offer all that the Ironman racer could ask for and the pre Ironman history of the long distance event adds more to the mystique.
---
And now... my own story.
Jean-Francois, my work colleague, soccer team mate, friend and now tri-buddy, and I travelled down to Nice on the Thursday before the race by train and checked into the hotel. Friday morning we tried out the swim, just 600 meters and then did about 50K on the bike. However perhaps this was even too much for me, as on Friday, when we went out in the car to check out the big climb of the bike course I was suffering from a terrible headache and nausea. I got back and took some Effelgeren at 6pm, 10pm and 1am and another dose when I woke up at 4am. I felt better by then but feared that it might have taken some energy from me. Ask anyone and they'll tell you that I always forget at least one thing whenever I travel, and this time it was the cardio belt. My wife sent it Fedex to me on Friday, but it never arrived on time for the race.
We had breakfast at 4:30 am at the hotel. This time I managed to eat more than last year when the nerves before my first triathlon took my appetite away completely. We then made our way to the start. Last year I arrived on my own before 5am and was the first person on site, it was dark and the only people I met on the way were those headed home after long Friday night out. This time we arrived at a more suitable time but had to line up for quite a while to enter the bike area. By the time we got through, got the body markings on and made the final adjustments it was already less than 30 minutes to the start. The lines for the toilets were already very long and in the end I decided that I would have to wait until the swim to relieve myself.

The Swim.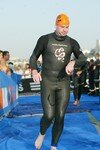 I gave a final "Good Luck" to JF and then we are off. This time I was a bit more ambitions and I put myself in the sub 1h10 zone and headed off into the washing machine. Last year I was happy to stay at the back and well out of trouble. After 1 minute I realised that again I had forgotten to start my watch so I had to pause briefly to get that done. The difference between my watch and the race clock was actually turned out to be 1minute 10 seconds, but of course I didn't know that at the time. So my first point of reference in how fast I was going iwas the apex of the first loop (950 meters). Last year I was pleasantly surprised when I got there in 19:30 and this time I am shocked as I checked my watch and the time was 12 minutes. IMPOSSIBLE! I realised about the minute difference at the start and assumed that it must have been more. But exiting the water after the first loop the race clock was at 28 minutes. Again this confirms the difference between my watch and the race clock but there is no way that I can swim 1.9Km in 28 minutes. I smiled to myself as I thought of anyone checking my splits on Ironman live. Heh Heh. So I started the second loop and I'm was so encouraged by the time that I started to relax and not push myself too hard. About 1/4 of the way through the second loop I thought to myself how great things are going, how I was enjoying the swim and how much I've improved. I was really feeling on top of the world.

AAAIEIIIEEEEEEEE!!!!!!!!!

What is that? My forehead and nose explode with a sharp pain. There is no swimmer in front of me. JELLY FISH!!!! Shit!!. I didn't miss a stroke swimming and the pain is manageable, but I'm more concerned with the longer term effects or possible allergic reaction to one of these stings. I've never been stung by a jelly fish before and I remember a 10:30 athlete from last year who got stung in the water and was reduced to walking the marathon with me and finishing in 15:52. However as we go on the pain dies away and it appears that everything will be alright. We approach the end of the swim and are help out of the water by the marshals. The girl in front of me immediately asked for a Doctor because she too had been bitten. I learn later that JF got bitten 3 times on the hands and feet and Gilles Reboul got stung badly enough to cause dizziness, chills and diarrhoea. I guess we were lucky for the race because a day later the whole coast was infested with jelly fish and swimming was quite impossible.
The first time I see when I get out is 1h04mins. Ok I slowed down a little on the second lap, and I immediately realise that this was not a full 3.8K, but I'm happy anyway. I feel great, better than last year and head off to the transition. This time I have no dizziness on exiting the water and I can run all the way through transition. I swallow 2 Gels and 750ml of Powerbar drink and head for the bike. The only negative from the shortened course however is that is reduced the lead I could build up over JF.
Swim

Split

1:03:50 (2005 1:19:19)
T1: 8m09 (2005:10minutes)

The bike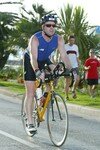 I start on the bike course, get my feet in the shoes and start of at a lively 35Kmh with a high cadence and it feels like no effort at all. Immediately I am thankful that my gears and everything are working which was a big problem last year and cost me 30 minutes. The first 20K is fine and I get the average speed up to over 32Kmh. Then we get to the "Wall"; a 500 meter stretch of road which climbs 50 meters. 10% average, but it starts at 5% and must go up to 15/16% and the end. Everyone is on 39/25, out of their seats and trying desperately to keep the bike going forward for the last 100 metres. The bikes act like wild horses, constantly trying to lead their riders off to the side. I almost cut one poor guy off as mine veers to the left as the incline steepens yet again. Once this is negotiated we head on an easy "climb" of 1.5% average over the next 20K. There is a 2K stretch which reaches 4-5% but apart from that I manage to keep the speed about 31Kmh. We have now climbed 400m and I'm surprised that I've kept the average speed so high. Then we have 10k descent down to 200 metres altitude which feels great. And now the fun starts!!!
The next 21Km climb a total of 800 meters. A world of pain awaits for the next hour. The good part is that there is only 10Km which gets above 5% which is the point at which my speed really drops. Km55-58 and 63-69. For some reason the Km55-58 seems much harder for me. I start to lose a lot of places but I don't worry too much. All I need to do is get to the top without killing myself. After Km58 it flattens out and the speed picks up again. I'm happy to have got this far and I start wondering where JF is. He shouldn't have cut into the lead much, if at all, for the first 50K but after he has the advantage on me. A Kuota Kalibur, 18Kg less bodyweight and 10 years is a lot to give up on a 21Km climb. We hit the second part of the climb and at the 60Km mark, just as I'm thinking that I could make it to the top without being caught he suddenly appears along side me. We hang together for a few minutes and pass the feed station together. He says he got 1hr8 on the swim which confirms all my suspicions about the course length. (JF has ended up resorting to breast stoke in both his triathlons to date which will give you some idea about the changes of him swimming sub 1h10). I know that trying to follow JF at this point will cause more harm than good so I let him disappear into the distance and carry on doing what I can. The temperature is getting higher and I've been taking plenty of Powerbar drink and a gel every 20 minutes. However reaching the summit at 70K and getting the personal bag I suddenly feel terrible. I pull over on the side of the road and my stomach explodes. I throw up 2 loads of drink. I start up again and whilst riding I'm throw up again twice. However as usual, I feel better immediately afterwards. I still wonder to this day if it was the poison from that jelly fish. By now I've let my average speed drop to 23Kmh and according to my calculations I needed it to be at 24 minimum at this point. I'm about 12 minutes behind where I wanted to be on the bike, but the swim time means I'm more or less on schedule for my 12 hour goal.
Next is wonderful 250m descent over 30Km which is great. Great roads with no wind allow me to keep the speed up to 50-55K. Then there is a 3-4Km climb at 110K. Although I haven't done much training beyond 90K, the distances don't worry me and I'm confidant and comfortable at the pace. After the monster climb this one can't scare me and although it costs me a few places I feel good. Then there is an interesting section on the course which they used to fix the distance for the whole course. There is an out and back of about 10K going into the Gorges du Loup from the north. At this point you can see the cyclists coming back. It start to rain for a brief moment. How ironic, hot sunshine on the climb and now we may get slippery wet roads for the descent!. Fortunately the rain doesn't last for more than a few minutes. I am watching out for JF and finally I see him. I check my watch and time myself to the turn, 4 minutes. That means I'm 8 minutes behind which isn't too bad at all. With the large descent coming up I might make some of it back. This is where the 18Kg and non carbon frame will play in my favour. We negotiation a small climb up to Brouyon where the whole town seemed to have turned out to cheer the athletes on and then there is a huge descent. If there is a cyclist's equivalent of Heaven then this must be it. I forgive the course designers for all the pain they have put me through so far as I enjoy the wonderful fast descent and incredible scenery from 1000 meters altitude. It seems incredible to me that I have gained this height on a bicycle, but I'm not complaining and I'm going to make the most of it coming down. Slowly my average speed is creeping up again. 25...then 26 as we reach Gattieres then Carros with about 150Km completed. Unfortunately here we have some very strong headwinds, but I'm still feeing very good and manage to stay in the Aero position and keep the speed up. I remember the torture that I was in this time last year and, whilst I do have a few aches in the back and neck, I have to say I'm in much better shape and I am actually looking forward to the run. However I realise that I have not eaten anything for a long time, probably since I was sick. I know I'll pay for this mistake later.

The Run
I hit the end of the bike and I am able to run the transition. Last year I hobbled through in tears of pain wondering how on earth I'm going to get through a marathon. I quick change and we're off on the run. I'm about 10 minutes down on my target time, we'll just have to see if we can make any up on the run. I start going very easily and I think I'm hitting a reasonably pace and I hit the first turn (1/8th of the course) in 31 minutes. Just a little bit over where I wanted to be. I'd seen JF just before the turn and as I'd hoped I'd got the difference down to about 3 minutes. I head back on the first loop and there is a very strong headwind. I run behind 2 big guys for a while. The wind is so strong that everyone has to put their caps on backwards. At the end of the first loop (10.5K) I time check JF again and we still about 3 minutes apart, but I am slowing down. I head off on the second loop. I'm walking the feed stations searching desperately for cold water and trying to keep my body temperature down. Sometimes there is ice, sometimes there isn't. When there is I put the ice under my hat it really helps keep me cool and refreshed. I can't face the energy drink so I start on the coke early. During the second loop I realise that my energy levels are dropping and I'm slowing down. (I hear the news that England is leading Ecuador by 1-0). I now realise that my 4 hour marathon and 12 hour goal is not reachable and after 15K I start to walk for the first time. I end up walking a few times over the next 10K. I have the usually doubts and words like ABANDON, float round my mind, but I really can't accept that proposition. I plan how I can make sure I do 13 Hours and now that is starting to look like a challenge. I get to the half way point on the marathon. JF is now pulling away and has a 16 minute lead. I have under 2h30 to do a half marathon. At 25K my stomach gives out again and I am violently sick. However I feel better immediately and start to regather myself for the last 15K. I grab my personal bag here and there are 4 gels inside. I take one and set off running. I run solidly for the next 10K (and in the middle hear that England have won with a Beckham free kick) and now I only have 5K left. Half a lap and about 32 minutes to beat 13 Hours. OK. I've given myself a shot at it. I know I need to increase the pace. ARRRRGH. Every time I try to up the pace a little bit, the cramps are waiting for me. I just can't do it. I look at all the c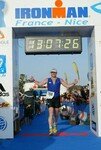 ourse in front of me, knowing that it should be so easy to run that distance in the time available. But I just can't. The realisation that I'm going to miss 13 hours is hard to take and I'm down to walking again. A few times I build myself up and say its still possible, but each time I try to run that the required pace, the legs just won't let me. I'm down to 2K and 9 minutes left. Something I'd run easily during a training session after a 1hour bike, but it's not in me today. I jog the last 1K and then suddenly I realise what I have done. I've taken 3 hours off my time from last year, improved in every part of the race and I'm about to finish my second Ironman. Suddenly I'm elated and start punching the air as I'm running. I get to the final 500m where the crowds are awaiting. The cheering gets to me and I raise my arms in the air and increase the pace just a little. ARRRRHHHHH. My left leg goes completely stiff followed but the right leg. Cramps in the calves and thighs. I stretch a little, restart and carry on, turning the corner into the final 50 meters feeling the exhilaration as I cross the line. 13:07 was the final time compared to 15:52 last year. I'm elated about that.
The very moment I cross the line and stop the cramp hits me again and I fall over completely. I just need a few seconds to stretch and let it go away but the medics are all over me and have me in a wheelchair before I can protest. I grab my medal and they take me to the tent. I see JF's parents as they wheel me past and let them know I'm OK.

Post Race
After lying down in the tent for a few minutes I tell them it was just cramps and I'm fine. I go out to find JF to congratulate him but I can't find him but the legs are starting to seize up again really baldy. I leave my stuff with JF's mum and head towards the massage tent. My legs, feet and back in constant spasms. After the massage I head back to get changed and get the finisher's certificate and T-Shirt but have to sit down as I'm feeling very dizzy. JF's mum starts slapping my face and calls the medics again and the take me to the medical tent where the lay me down right next to JF who has been on an IV for 30 minutes. Whatever they put in that IV must be good because he seems fine, but they don't give me any. After lying down for 10 minutes and making some calls I get back up and grab some soup to eat, start collecting my things and head back for the hotel. Actually it's now about 90 minutes since the end of the race so I suppose all that took a little longer than I made it appear.

I get back to my room at 22:00. Where on earth did the last 2 1/2 hours go? It was 19:30, when we finished the race! I lie down. The others are going out to eat but I really just want to lie down. I watch the second half of Portugal/Holland and at 23h00 JF calls. Actually it makes sense to eat something now so I head on out and join them for some pasta and that makes a great end to another incredible day. The Ironman experience is everything that they say it is, even the second time. Roll on Sherborne.