I arrived earlier at the race site than last year which gave me more time to get set up. Still I do manage to waste most of it by fussing over the bike and taping about 2Kg of accessories to it to make up for all the weight that Cervelo have shaved off. My pre race build up has been better with the lessons learned from IMSA and not stuffing my face late the evening before the race. I'd managed to get most of half of my Overstims cake inside me from about 4am onwards. In fact the biggest challenge was getting the thing baked. There wasn't an oven at the hotel so I'd asked at lots of restaurants on Saturday and finally found a friendly manager who agreed to have his cook prepare it for me. Merci Beaucoup.

The entry is back up for Nice this year with 1500 signed up and the race organization continues to improve. The finish area and run turnaround have been remodeled and the crowds were able to provide a much better atmosphere than in the last 2 years. Perhaps Les Nicoises are finally warming to IM.

There are two guys from my club [Meudon Triathlon] here this year. Eric Carlier (668) and Dominique Bertholot (1064), both of who are doing their first IMs. In fact Eric did his first triathlon in May this year. There are also Jean-Francoise 'Jeff' Leleu-Eponville (351) and Cyril Milinkovitch 'MrTri' (141) who are former members of the club. Also there is Thierry Foulounoux (1311) and Mehamed Boucherit (394) who I see regularly training in the Paris area and finally Jean-Claude Dudouet and Christine Suligoj who I first met doing IM Nice in 2005. I meet up with Cyril and Jeff before giving a final good luck to Dom and Eric before leaving the bike park and heading towards the swim start.


I put myself in the sub 1h6 group but a few rows back from the front. Suddenly looking out at the course I'm confused. I check with another competitor for the buoy we're supposed to aim for and it is a quite an angle from the shore to the left. This is even stranger since the Pros are to our right and would have further to swim. For a minute I think about getting in one of the corals further to the left but I decide against as we're just a few minutes from the start. We get to the countdown and everyone starts cheering and clapping as usual. 10-9-8-7-6-5-4-3-2-1-GO.

Unlike most beach starts, at Nice the water gets deeps quickly and you can start swimming almost immediately which I do. There is a obviously a lot going on just in front of me so I keep my head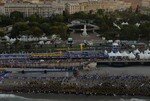 above the water and try to keep out of trouble. But this ends up being one of the most difficult starts I've experienced. I follow along without even looking for the buoy and it's a full 10 minutes before I have really enough space to get my head down and start swimming properly. Then I realize that I'm now way over to the left side of the pack, I've cut too sharp an angle and it's impossible to get back in the middle as there are too many swimmers along side of me. However the pay off is a more peaceful swim. I'm going to be going quite wide round the buoys. After about 15 minutes I'm well into my rhythm and enjoying the swim. I hit the top of the first loop at 15m15. Presuming they've got the distance correct this year this is about as expected for 950 metres. I'm still swimming quite wide round the buoys and even on the way back I'm still on the outside of the field. Next time I'm going to do the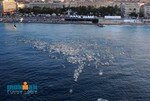 swim course with a GPS and see just how much further I swim than everyone else. I keep going well and make the end of the first loop in 31:44. My goal is 1h05 so I'm looking good for that. The second loop is marked only by a rather benign kick in the face about half way round which dislodges my goggles. They have performed admirably up to this point not letting in a single drop of water. I quickly empty them and carry on. Wow the swim is already over. It really felt like nothing at all and I clock 1:04:49. This is an IM PB by 5 minutes (last year's 1h03 at Nice doesn't count since the course was short).

Split
Time: 1h04m49s/Overall: 378/Age Group: 69

Race Time: 1h04m49s/Overall: 378/Age Group: 69

T1
OK my goal is to make a really fast T1. I start running up the beach getting my arms out of my wetsuit and pause at the bottom of the ramp to get my legs out, being careful to stand out of the way of the others behind me. I've left my cap and goggles on to keep my hands free. Then I run, folding up my wetsuit, through the stands and into the T1 area, grab the bag (having number 1001 is quite useful since my bags are at the front of the racks). I run through the changing tent trying to feed the wetsuit into the bag. I volunteer grabs them for me and says go! I need no second asking. There are only 2 things in my T1 bag. Helmet and race belt, and I was even considering having the race belt on under the wetsuit but decided against. Helmet is now strapped on and the race belt is quickly on as I run into the park. I grab the bike, pull it out into the main channel and start sprinting. I'm going so fast and the bike starts slipping. The back wheel slides away and hits a concrete support sending my tool canister flying out of by seat bottle holder. A kind athlete grabs it and hands it back to me, however the super light carbon bottle holder has snapped. I carry on running to the end of T1 with a quick decision to make. I now have 2 slots on my bike instead of 3. That means either a water bottle or the tools have to go. I put the bike tool canister in the good seat holder and hold the bottle in my hands. Mount the bike and start pedaling. I get going a good speed and down the ¾ litre power bar drink and chuck the bottle. Ok we're going to have to do the course with one bottle holder. Interesting. I carry on and finally get round to getting my feet into my shoes. Well, not entirely as planned, but another lesson learned and this sport certainly challenges our ability to adapt. Anyway, by no means was this the most important equipment failure of the day amongst my immediate friends in the race so I have no cause for complaint.

Awesome job.

Split
Time: 4m05s/Overall: 52nd/Age Group: 1st
Race Time: 1h08m54s/Overall: 264 (-114)/Age Group: 43 (-26)

The Bike.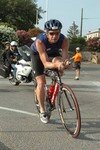 Well apart from the mishap in T1 the bike was awesome. A total pleasure all the way through on absolutely the best IM course on the circuit. I'll be happy to argue that point with anyone. Knowing the course so well helped. I hit all my planned time checks, in fact I was 10 minutes ahead for my schedule for most of the race. I knew I was about 300th coming out of T1 and I gained about 50 places in the first 20K. I had a small mishap after the wall when by glasses came off my helmet and dropped. 1m lost in stopping, dismounting and running back 30 metres to retrieve them. I get passed by a few riders but I get the race position down to about 220 before the start of the big climb at 50Km. I take it really easy start as planned, comforted by the knowledge that I'm 10 minutes ahead of schedule already. I give a few minutes back on the climb and lose about 25 places but I'm not too concerned. I'm ready for the fact that there is still some more climbing to do shortly after the Col de l'ecre so I stock up on food and keep going. Then the first of the descents. I really attack them and pass a lot of riders over the next 25K. Then the climb to Corsegoules where I am totally shocked as I pass MrTri who seems to be struggling a bit. I reach the top and he repasses me a quite a speed. I guess he was shocked too. We're now heading into the out and back part of the course. I move to the big chain ring and the chain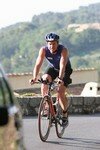 comes off and won't go back on. I have to stop, dismount and do it manually. I hit the turn noting that Mrtri is a good minute or so in front of me, so I hammer on the pedals and start passing people like crazy. I've repassed Mrtri before the end of the out and back and there is just a 2Km climb before the beautiful pay off for all the hard work done. At 120K that's it. We hit the descents and now it's just a case of playing daredevil for the next 50 minutes. Sometimes I like to hang 20 metres behind some guys to get a read on their line into the corners, but eventually I realize that I have to pass them if I want to move up the field. I'm still counting down now and I've got to about 200th place. Unfortunately there are two or three bad spills that I pass, one looked particularly bad. Fortunately each one already had professional medical assistance all over them so nothing to be done by stopping. Is this what it's like riding with the big boys? I guess so. The worst thing is passing a fallen rider and checking off the number in my race count. I feel kinda guilty about benefiting from some else's misfortune.
There is a 1Km climb right in the middle of the descent so I immediately break out a Harvest bar and force it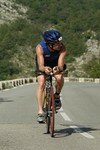 down with a gel and power drink. The single bottle holder hasn't handicapped me too much as on each station I change out the energy drink in bottle cage and keep a water bottle balanced on my aerobars which I try to drink as quickly as possible to avoid having to drop it too far from the litter zone. The last aid station is on a 50Km descent which is ridiculous and I only manage to keep one bottle. Then I hit a hole in the road and there is an unholy noise coming from the bike. I check behind and my 2nd spare inner tube is dangling from the seat with the valve chiming against my Zipp 404. I hastily pull it out of harm's way and toss it to some spectators. I'd have to have 2 flats in the last 25K to have my day ruined so no sweat. On the subject of tyres I love the Michelin Pro Races. I have never felt so comfortable and confident on the turns and this was my first ride with them. Awesome and thanks to all the guys on Slowtwitch who made this a huge consensus pick for an IM race.

We reach the bottom of the descent and just 20K to go. There is a bit of a headwind, but hell I don't' care. I'm flying, the afterburners are on, we're on overdrive, giving it both barrels and not waiting around for anyone. I'm 175Kg on a Cervelo P3C, Zipp 404s, forward geometry with full tri set up so at this point there's not many in the field going to keep up with me now. The small group that was with me (not in a drafting sense) on the down hill falls behind and I see packets of riders ahead. In the last 20K I take about another 20 places and figure that I'm about 170th overall. Actually I was 179 at the time and adjusted 165 amongst finishers only.

Bike time 5:34:00. A personal best on a really tough course and only 40 minutes off the top pros. 11 minutes ahead of my plan and about 3 hours faster than my 2005 time and 1h20 faster than last year. Gotta luv that haven't you?

Split Time: 5h34m22s/Overall: 166th/Age Group: 25th
Race Time: 6h43m16s/Overall: 165th (-99)/Age Group: 24 (-19)

T2
This is fairly uneventful, only surprise was that in the last 2 years they took your bike as soon as you dismounted. However this year you have to run the whole length of the bike park before the hand off. As I approach the guy who is going to take my bike I remember the video clip of Normann throwing the bike in T2 at Kona last year. However I love my P3C too much to throw it!!! Maybe you can do that with Kuotas but not with Cervelos. Anyway this baby has looked after me for 180Km and been awesome. Respect! I hand it off gently, grab my bag, get the socks, shoes and cap on and head out for the torture.

Split Time: 3m16s
Overall: 60th/Age Group: 6th/Race Time: 6h46m32s
Overall: 159th (-6)/Age Group: 22 (-2)

The Run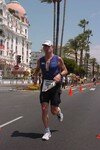 OK it's here that I don't get it. And I really don't. I had a great bike, no pain at all. I've run 18K in 1 hour 20 in training sessions following a 4 hour bike and felt great. But again my legs just feel stiff as I run out. Not only that, I'm running at a good pace, in fact I think I'm doing about 13Kmh for the first Km. At this pace it's a 3hour 20 marathon and dammit I'm not passing anyone. I check the armbands to make sure if they are the elites on their second or third laps but no. There are plenty of guys just starting who are passing me. I pass one guy and he lets out an enormous, fart for about 20 seconds which leaves a vapour trail for at least the next 100 metres. Well that made me speed up for a short while. I keep going but I don't understand what's happening. I was going to shoot for a 3h45 marathon for my 10h30 goal. On this plan I should pass about another 60-70 runners and about 10 in my AG.

I reach the turnaround on the first loop at 25minutes. Great time, I'm still at 3h20 pace but I don't feel good at all and I'm getting passed by other runners. What on earth is going on? I complete the first loop in 53 minutes getting encouragement from MrTri as he passes me running very well. The return has a slight head wind so my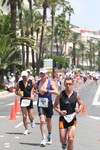 pace is now at 3h30 marathon. That would still be awesome but why am I not moving up the field? Outbound on the second lap I'm about to take a salt tablet and I lose the cap of my container. I stop suddenly to retrieve it and my back jars and is quite painful on the restart. I try to regain my rhythm but I never quite manage it. I hit the turn around in 1h25. This is still great but I know I'm slowing. I break on the way back on the second lap and walk for a short while. Remember Natascha at Kona last year!!!! Don't give up!! I restart and complete the second lap on 2 hours. So 53 minutes for the first lap, 1h07 for the second. No prizes for guessing where this run is going. The legs are hurting really badly and I struggle through a terrible third lap in 1h15. I pull it back together a little for the last lap and give a sub 11hour IM a shot. I thought I'd stepped it up a bit but at the turn I clocked 32 minutes for the half loop, which isn't good enough. Well only 5K to go now so might as well keep the pace going and not let this race get too far away. I'd picked up my Union Flag from my special needs on the last run in and as I approach the last few hundred metres the crowd thickens, and the flag seems to animate them. I run through the shoot cross the line in 11h07. A PB by 35 minutes on a more difficult course. 2 hours faster than the same race last year but unfortunately my expectations were higher… aren't they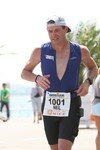 always?

Good swim, awesome bike but again a poor run although I'm embarrassed to say that 4h21 was a PB. Two outta three ain't bad? I'll take a few days to think of what I need to do to address my running problems before the next bite at the cherry which is IM Louisville on August 26th.

Split Time: 4h21m06s/Overall: 620th/Age Group: 129th
Race Time: 11h07m38s/Overall: 300th (+141)/Age Group: 54 (+32)

As for my friends. I'm delighted to say that they all finished. Eric and Dom completed their first IMs in 15h30 and 13h55 respectively. Way to go guys. Eric is totally new to triathlon and Dom was carrying a slight knee problem into the race so I'm delighted he finished.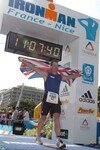 Cyril (MrTri) recorded a great10h27 but unfortunately his Kona dreams, like mine, are on hold for a while. Cyril is capable of better and one day he will achieve his dream.

Jean-Francois 'Jeff' had the most amazing story of the day. At 70Km into the bike his right crank arm started to crack and it completely broke off at 100Km. Fortunately most of the climbing was done, but Jeff nevertheless did 80Km of biking, 25Km of which was down some very dangerous descents on one pedal and not only made it back to T2 but also completed the race in 14h11. Jeff you are a hero for that effort! Awesome

I saw Mehamed on my last lap of the run and he finished with a great 12h54, again improving on his previous year's

Thierry put up a 10h56 and passed me on the run although I don't remember seeing him. He came 5th in his age group (M50) and with 3 slots and only one non-taker, he was the fastest non qualifier in his age group. 3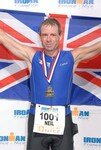 minutes away from Kona.

Jean-Claude and Christine both finished in 11h29 and 15h13. They've both done better on this course. J-C even made the M50 podium in 2005. Great job guys nonetheless.

Elsewhere on an incredible day for our club, we had two of our three starters Michel Bisson and Walter Batel completed IM Zurich. Francois Dubuc and Sylvestre Ducreux both crossed the finish line at Roth. Yes June 24th, 2007 was the day when Meudon Triathlon took on Europe.