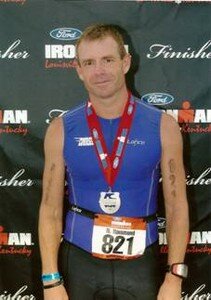 So a quick recap of the story so far. Having taken a year off work with the express goal of qualifying for Kona I find myself with two strikes against so far and a very difficult race looming. I've now completed five Ironman races in my short triathlon career and I've managed to show across the board improvement in each race except South Africa. I've learned so much along the way, but perhaps the most significant thing I learned is that I was stretching my goals too far to make it to Hawaii this time round. So really I'm planning to enjoy IM Louisville, do the best I can and set some more PBs along the way. My biggest aim is to complete a respectable run, and by that I mean a sub 4 hour marathon.
Before we get into the actually race day, the build up to the race has to be addressed. This is an inaugural event which normally scares off a lot of people. It is set in a hot and humid environment under usual circumstances. However the weeks preceding the race were characterized by an exceptional heat wave but with potential thunderstorms hitting the area around the days of the race. The swim is in a supposedly polluted river with strong currents and the heat wave will likely prohibit the use of wet suits (not good for the poor swimmers like me). The bike course will be hot and so rolling that 1) everyone will be changing gears constantly and 2) despite that the top to bottom elevation change on the course is perhaps less than 150 meters, the total elevation climbed will be something around Nice proportions. "Expect to add around 45 minutes to your bike split" was one comment on Slowtwitch. Well at least the run course is flat-ish, but don't worry it will be hot. Slowtwitch community predicts up to a 25% DNF rate on this race based on the weather forecasts and the anticipated number of first timers competing. A final problem was the anticipated Kona slots for my AG. The AG distribution is different in the US with a higher percentage of females and older athletes competing. Thus the 8 slots out of the 45 total that we got in Nice were reduced to 5 out of 45 for Louisville. All this combined with the previous 2 strikes at Port Elizabeth and Nice helped revise my Kona expectations downwards. I'll give it a good, honest shot. I'm on my 3rd and last strike for this year and I'd rather be struck out swinging than struck out looking. If ya know what I mean.
Then from T-24 hours the news just got better and better.
The course organizers had changed the swim course so there was to be less swimming against the current.

My mail ordered pointzerothree speed suit from blue seventy had arrived and I tried it out on Saturday morning. I could feel the extra buoyancy upon entering the water. This will certainly help on the race and not everyone will have one! Everyone would have had a wetsuit if they had been allowed. Advantage Neil.
A drive around the bike course with an altimeter showed an easier course than expected with only 1400 meters of climbing versus the 2500 I had been expecting.
My Louis Garneau Rocket helmet arrived along with a set of Zipp 808s. These should help a bit too. Damn, it would have been cheaper to have purchased a Kona slot on E-bay.
The T-storm hit Louisville on Saturday afternoon for about 30 minutes. It seemed to rid the place of the humidity and the forecast was for much, much cooler weather on race day.
Equipment

Well if I don't qualify then it certainly won't be through any lack of top of the range equipment. Let's summarise the weaponry we have available.
Swim: BlueSeventy pointzerothree speedsuit,
Bike: Cervelo PC3 frame, Shimano DA groupo, FSA bars and shifters, Zipp 808s, Michelin Pro Race 2 tyres, Profile Aerobottle, Zipp Carbon bottle holders, Polar Bike computer and a LG Rocket on my head.
Run: Ascics Gel Nimbus running shoes. Garmin Forerunner
General Race: Lance Tri-suit, InfinIT energy drink, and most of all my HTFU wristband
Also I'm bringing to the race the following 2007 training numbers
8,000 Km Bike
1,400 Km Run
230Km Swim
I know what you're thinking….. the swimming looks a little light doesn't it? Or maybe you're thinking that the athlete is not up to the same standard as the equipment. You'd be right in both cases. Not gonna argue with you.
Pre race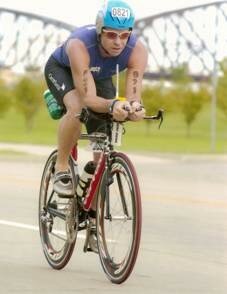 OK so you know the routine by now. Light training in the week prior to the race with a complete rest day on Friday. Saturday we do a swim session in the morning and about 50K on the bike in the afternoon. Interesting swim session. We take off from where the original start would have been. We swim about 4-500 meters against the current which takes about 24 minutes. We hit the turn and swim back and this takes all of 4 minutes to swim the same distance which included overshooting the swim exit! Obviously a great call by the organizers to modify the swim. We check in the bikes and transition bags then eat light and early on Saturday evening and get to sleep.
Awake at 3:45 am well before the alarm. This always happens. I get up, and put a good amount of calories inside me and do my morning yoga. 10 Sun Salutations. I check on Ben and Melanie and of course they are both ready so we head off to the start. After getting the body marking and loading up the bikes we then follow the crowd over to the swim start which is about 1 Km away. The line has already formed for the time trial start. As expected the "self-seeding" plan was really "first come, first served". We get in line and it looks like we are quite a way back. We get to see the pros start, which is a first for me, and then 10 minutes later the Age groupers start entering the water one by one. The line of athletes winds back and forth up the river bank so we have a great view of the proceedings. They are getting the athletes into the water at a very quick rate. At this point I feel the urge for a final toilet break and after discussions with Ben we feel that it is better to lose our place in the line and get this taken care of now rather than later. I emerge a few hundred grams lighter from the porta johns and we sidle back into the line, hmm not quite and the end. As the line works its way forward and we approach the start the volunteers are all there prepping us for the entry. The last one even reminds us to start our watches as we enter. Finally we are here. I guess I wasn't thinking clearly enough to take a check on the elapsed time on the race clock, actually it turned out to be about 25 minutes after the pros started.
Final "good lucks" pass between Ben and me and we cross the timing mat and jump into the water. Now the plan was for me to try to hang on behind Ben up to the turn as we are swimming against the current. However there are a few problems with this plan. Firstly Ben is a far, far better swimmer than I am and is easily going to drop me whether I'm on his feet or not. Ben also weighs about 62 Kilos so does not create much of a draft anyway. Also having started this far back in the line, Ben is going to be zigzagging between all the swimmers as he passes them and I'm never going to be able to keep track of where he is. Also I never feel comfortable for the first 10 minutes of the swim so I'm not at my best then anyway. Finally, well, even if this is not illegal per se, in the swim section, this is an individual event and I'd much rather take my chances with what I've got. I think it's OK to draft of swimmers you pick up at random during the swim, but I think that a pre-arranged draft is pushing the ethical limits of the competition too far. So as expected, I lose Ben in about the first 50 meters and feel much happier about that. Then I realize that again, for about the 4th time in 6 IMs I have forgotten to start the watch. So I start it and figure about a 3 minute delay.
I get over to the left hand side of the swim course near the island. This is what everyone has been doing and probably for a good reason. I negotiate my way round a few swimmers, and notably some athletes that are already breast-stroking after less than 500m swim. This is the easiest sighting I've ever had to do since the river bank is constantly in view on both sides as I breathe. After about 1Km we get out of the sheltered area and out into the main river where the current is a little stronger. It seems to take a long time to cover the 3-400 meters or so to the turn around which I finally reach in 30 minutes. Then I try to sight the end of the course, move out as far to the right as possible into the middle of the river where the current is strongest and head home. We've got a few bridges to pass which serve a good reference points. I'm pretty much out on my own here and hard to say whether my tactic has paid off or not. I can feel the speed suit rubbing my neck on one side and this is where I had tucked the zip cord inside my suit. I switch to breathing on even sides to avoid the rubbing. Another small note for future reference, leave the cord outside.
I make the swim exit in 1h10. That means 30 minutes for the first 1300 meters and then 40 minutes for the last 2500 meters to give you some idea of the current!
Swim Time 1h10m01s
Overall 409th
Age Group 73rd
Transition 1
A few of the athletes in front are obviously just not trying of super T1 times. Already the guy in front of my climbing up the steps out of the water seems more concerned with having a conversation with the volunteer helping him out. I get past him and start running towards the bike pausing to get out of the speed suit which is much easier to do than a full wetsuit. I find my Bike Bag instantly and have unloaded the swim stuff into it and recovered the helmet and race belt before I've reached the changing tent. I sprint through the tent, passing all those sitting down having a rest, drop of the bag and head out to the bike park. Locating the bike is no problem but I lost a few seconds recovering my glasses from the tope tube. Maybe I'll put the in the transition back in future. Then as we head out of the bike park there is a long passage before the official bike start and again there are plenty of athletes who seem to be in no particular hurry. As courteously as possible I negotiate my way passed them and get to the starting line.
T1 Time 3m27s
Overall 34th
Age Group 2nd
Race Time 1h13m26sOverall 302nd (-107 places)
Age Group 50th (-23 places)
Bike

One of the golden rules of triathlon, and particularly Ironman racing, is that you never, ever, ever, under any circumstances, try any new piece of equipment, nutrition, tactic, strategy etc that you have not tested in training. So as I mount my bike for the first time ever wearing an aero helmet I am mightily relieved that there is no thunderbolt emerging from the sky sent by the gods of Kona. Everything appears normal as I head out. There are no flat tyres, no worrying knocking sounds and all the bottles of InfinIT are intact and in position. Great.
So we head off for 180Km of riding. I get a good amount of drink inside me to make up for what I have spent during the swim. At this point I'm not pushing the bike at all and the first 15Km is very comfortable. I'm keeping the cadence in the high 80s and the heart rate drops from 140bpm after the swim and transition to a more normal 130bpm. The road surface is excellent and everything looks good. So my main plan here is to give set myself up for the run. I could probably go around 5h15 but I'd probably trash my legs in the process. I've significantly upped my run training but I still need to rely on being in good shape to execute. So although I'm running at around 31Kmh average, rather low, I feel that this is comfortable and where I should be. Kona is calling in the distance, but I can't go chasing after it like a madman. Patience.
After 15K we begin to climb so I'm glad already that I've got some of the bottles emptied to reduce the weight on the bike. The temperature is still quite low so I'm not sweating too much at this point. We climb at 5% for 1Km and then it settles down for another 15Km although the rolling terrain has begun. I hit the turn for the out and back section where the biggest climbs of the course are hidden. I like out and back sections normally because it gives you an idea of where you are in the field. However with the staggered start today's race is pretty much an individual time trial. In fact, just as it should be. The staggered start has spread out the field sufficiently so that there is no drafting in evidence at all. I hit the descent on the out and back section during which we have to be careful as there are the riders coming back the other way up hill. Not only that but as I approach one rider on the down hill I quickly realize that he is relieving himself on the bike and I have to swerve rather sharply to avoid the stream emanating from the region of his bike saddle. That's the first time I've ever encountered that. Let's call that one a near miss. Then we in turn start to climb up while the on coming riders are descending and there I see Ben. Then of course we hit the turn around 3 minutes after seeing Ben (so he is 6 minutes in front of me) and then do the reverse portion of the out and back. At the bottom of the hill at about 60 Kmh around I hit a seam on the bridge and the yellow "plug" on my aero bottle goes flying as well as one of my bottles. Fortunately it fell out of harm's way behind me. I make an immediate decision not to go back for anything.
6 minutes behind Ben was a bit less than I expected. In fact I was 10 minutes behind at the end of the swim so I was gaining on the bike although I wasn't to know that at the time. What I also didn't know was that Ben's steering was blocked on his P2SL. Initially he thought that the rain had done something to it, but it turns out that in putting his bike together after the last leg of out journey a washer had fallen out and he had put it back in the wrong way round. I don't know how he managed to ride a bike that couldn't be steered, but he did, even having to dismount at the turn around.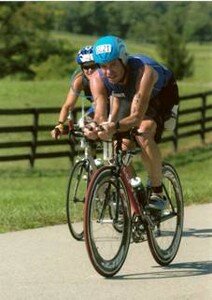 After the out-and-back we head towards the two main 50Km loops. The roads are good, the terrain is rolling, but very manageable, the temperature is still nice a cool (relatively). I notice that there are a few guys about the same overall level as me and we keep passing and re passing each other all the time due to the rolling terrain. I seem to be the strongest on the short climbs and they eventually catch me up and pass me just before the next climb. In addition to the staggered start, the rolling course prevents drafting just as effectively by continually moving the cyclists from their strong to weak areas and back again. The combination of the two effects is perfect. Suddenly I see Ben ahead. I'm surprised to have caught him at all, let alone so quickly. Notwithstanding his steering issues, he's only out for a training ride anyway as he already has his slot for Kona in the bag and will probably not run the marathon. I pass him quickly and we exchange a few words of encouragement. At La Grange there is a party going on. Noise, crowds, cheering, cow bells and even a dead raccoon lying on the side of the road in a party hat with a bottle in its paw. I feel like I'm riding in the tour de france as the crowds part to let the cyclists through. After La Grange we head back towards Louisville but there is of course the little matter of doing that loop again. The second loop feels much easier than the first for some reason. In fact my times for the loops were 1h32 for the first and 1h34 for the second which shows a nicely managed race. Having completed the second loop we head back to Louisville with only wind assisted down hill sections to go. This helps bring the average speed up a bit and I'm heading for about a 5h30 bike split. At this point there is a fair bit of traffic on the road. The cops are doing a great job of controlling the intersections but it always pays to be vigilant. Afterwards I found out that there was indeed on serious accident when a car jumped out and T-boned a triathlete who had to be med-evaced to hospital in a very bad condition. Then I hear a huge metallic "ping" and a couple of ricochets emanating from the bike. It seems like something has given out. I check all around and can find anything missing and the bike seems to be fine. I found out later that it was one of my CO2 tubes that had fallen off the rack and had pinged against my precious 808 spokes. I wonder how close that could have been to disaster.A word about nutrition. I'm using InfinIt for the first time and it seems to be working well. I've perhaps overestimated the calories as I've consumed about 3,000 on the bike versus the 2,000 or so needed. However I wanted to build up a bit for the run. Otherwise the only other thing I've put in my body is water. No gels or anything at all. I've taken some additional salt tablets as well although I probably don't need them. As I hit the last feed station I fumble the water bottle that I'd grabbed. A cyclist passes me and, having seen what happened, asks me if I'm alright for fluids. Presumably he was willing to pass me a bottle for the final 15K. I say that I'm OK but I'm very touched but the gesture from this guy. I don't know who you are, but the offer was much appreciated and shows the true spirit of IM racing.
About 5Km from the end of the bike I switch on my Garmin which I plan to use for the run. It has been strapped around the base bar (not the most aerodynamic method) awaiting its call to action. As expected it takes most of the time of the rest of the bike before finally finding the satellites and declaring itself ready to go. I make the final turns towards the bike park, get my feet out of my shoes and start thinking about the run. We pass some runners on the last Km as there is a short 2Km loop at the beginning of the run. I dismount and my feet hit the ground just before the dismount line that's it. The bike is done. Now the moment of truth arrives as I will find out what I have left in those legs.
Split

Time 5h32m19s
Overall 143rd
Age Group 23rd

Race Time 6h45m45s
Overall 146th (-156 places)
Age Group 25th (-25 places)
Transition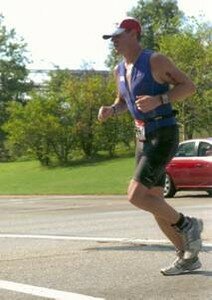 As my legs hit the ground and I start running with the bike get a chance to see how they feel. Not great, but certainly not the searing pain that I had in South Africa. Hopefully it's just a bit of stiffness that I can run off in a few Km. I hand off the bike and start running towards the transition area. Before I get there I realize what I have done, or rather what I haven't done. I forgot entirely to take the Garmin off the bike. Damn!!!! I continue on, grab the Run bag and get to the changing tent. I could certainly do the run without the watch, I still have my polar and I know the course distances will be well marked. But the Garmin average speed data point has become a psychological crutch for me and I know I want it. Against all logic I head out of the changing tent and instead of turning left towards the run course I head back towards the bike park. I notice immediately that the bikes are being racked in their original positions, i.e. by number. This means I should be able to find it where I picked it up after the swim. However it isn't there. I scan the area, but trying to pick out my red Cervelo out of a sea of Red Cervelos isn't going to be easy. Damn its popularity! I then notice that there is a staging area and the volunteers are working in an efficient tag team set up. One group is picking up the bikes from the athletes and putting them on the staging rack and another group is putting them back out in the park. I head to the staging rack and look again, but it isn't there either. I'm now burning time and at some point I have to cut my losses and just go. I talk to a volunteer and explain my situation, we run back over to my rack number and hey presto! There is my bike. I take the Garmin unit off and start running, then I head back to the bike again and put my polar watch back on the bike. I run back towards the tents and, well, since we've burned so much time anyway, why not burn more and have a comfortable pee in the porta john. That done, well, might as well get some sun screen from the volunteers as the temperature has picked up a bit. Finally I head out towards the run course. This was not a transition to be proud of!! What is amazing is that it was still quicker that over half the finishers and only lost me 1 place in my age group. I really do wonder what some people do to pass the time in transition.
Split

Time 9m20
Overall 616th
Age Group 95th
Race Time 6h55m05s
Overall 164th (+18 places)
Age Group 26th (+1 places)
Run.

Well maybe that disastrous T2 was a blessing in disguise. It's perhaps not a well know fact that when Luke van Lierde set the course record at Kona (that still stands today) he served a 3 minute penalty between the bike and the run. I remember also that both Herve Faure and Marcel Zamora both served 3 minute penalties at the same point in Nice 2005 and yet both reeled in Gilles Reboul on the run to grab 1st and 2nd places. There is a school of thought that says this rest will pay dividends in the long run. And talking of long runs, that's exactly what lies ahead.So I head out and on the first loop I'm well into my stride and I get the speed up to 12Kmh. My legs feel much better but my stomach is in a turmoil. I feel I need to belch for about 30 seconds to calm it down but I can't really do that and run. Another alternative is to empty my stomach completely, but I'm not quite at that point. The sun is out now and we get a very brief respite running under an overhead road as we complete the first 2Km loop. I still can't get my stomach under control. I probably had too much infinIT on the bike. I guess I just didn't trust the all-liquid nutrition plan enough and perhaps overdid it a bit to be sure. But you have to get the nutrition spot on. Too much can be as bad as not enough. I have to do something so I make a decision to hit the coke early as I can't tolerate the idea of energy drink. Within a few Km the Coke has completely settled down my stomach and everything is looking great. The legs are feel as good as I could expect, we are getting some periods of cloud cover and there is even some shade along the side of the road. Perhaps the biggest advantage of starting towards the end of the pack is that I'm not getting the super age group runners burning past me. In fact nobody is passing me. In fact I am passing the other runners. Now it's a case of holding on. Mentally I need to keep things under control for the first half or 25Km of the marathon and then apply my HTFU processes if needed to carry me through the last part of the race. I'm not out on the big loop which we will do twice. 10K out and 10K back. It's pretty flat, and we get out of the down town area very quickly and into more residential areas where the locals are partying in their yards, some are blasting out the music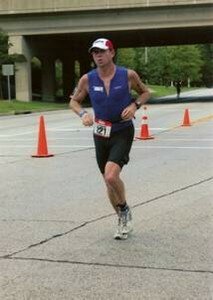 and we are getting lots of encouragement along the way. The feed stations are every mile, almost too frequent. Taking on enough water and coke is a top priority so I walk the feed stations to ensure that this is done. I get into a routine that I maintain for the whole race. Firstly a hatful of ice goes in the cap which gets placed on my head. Then I drink the coke and water and grab sponges and water to throw over my body. Once I've started running and the ice is freezing my head, I transfer the ice to the inside of my tri-suit. It slides down and nestles, well, in the crotch area. This is the best zone for cooling down the body as some major blood vessel pass there. My average speed has dropped to 11.9Km/h and I hit the turn at the end. 12Km done and feeling OK. I head back and the average slips down to 11.8Km.h but OK. I get my personal bag which has a bottle of infinIT in it, but I feel like the coke/water strategy will carry me through so I toss the bag and unused contents immediately.
Towards the end of the first loop a cyclist pulls up beside me bearing the marker "1st Female". I take a look back and there is Heather Gollnick about 30 metres behind, taking her time at an aid station. I chat with the cyclist for a while and after 1Km or so he pulls away as Heather draws nearer. She's got about a 20 minute lead over the next female so she's in no hurry and she's getting a lot of love from the spectators. She passes me over the next Km and speeds up as we enter the down town area. She's ready to finish and the crowd are whooping it up for her. I however have another lap to do. Nevertheless the trip back through down town puts an extra spring in my step and my average is a healthy 11.7Kmh. So I head out for the final loop. Now the legs are getting a little heavy and I'm taking a little longer at the aid stations. I'm running well between them, but losing a lot of time at the stations. The average speed is dropping and I try with some success to throw in some quicker Kilometers as per my HTFU plan. The basic part of the HTFU plan was to speed up when I'm feeling bad instead of stopping and walking. It seems to work. I finally hit
the end of the loop again and we only have 10K to go. I can feel it now. I'm going to break 4 hours, maybe 3h50. I do some calculations as I try to figure out my overall race time. This is the first IM where I've not known my overall race time as I'm competing. But what with not starting the watch at the start of the swim, stopping and restarting for the bike (thus missing the T1 time) and then changing watches for the run it is taking a fair amount of mental gymnastics to estimate my time. I guess that I might be on for around 10h45 if I keep up the current pace. This is very likely not good enough for Kona, but there will be some huge positives to draw from this. Going under 11 hours will be great, something I should have done in my last 2 IMs, and finally putting a good run together will be a huge confidence builder. Slowly the last Kilometers are eaten up, I'm stil losing a little bit of time on each one, with the average speed down to about 11.0, but I'm not losing enough to jeopardize these goals. I speed up as I hit town because that average speed WILL NOT go under 11.0. NO WAY!!! The next corner there is a child holding a poster that says "smile". So I smile and they all cheer. Wow, it feels so much better when you smile! The noise from the finish area is huge and this time it's all good as I can take the left chute and head to the finish line. I grab my Union Jack from Melanie and sprint over the line. The race clock reads 11h10 so I'm sure my personal time is under 11 hours, maybe 10h50. I'll take that, even if Kona has to wait for another year.


Run Split

Time 3h51m16
Overall 96th
Age Group 16th

Race Time 10h46m21s
Overall 103th (+61 places)
Age Group 16th (+10 places)

Post Race.
Well with no internet at the hotel, I didn't find out my time or race position until the next day. 10 Hours 46 minutes and 21 seconds was the time. Awesome, and also I was very surprised to see that I made the 103rd overall and 16th in my age group. A huge positive was that my best placing was the run and, for once, I actually gained places on the run instead of losing. I need to take sometime and figure out exactly what contributed to this. My current thinking is that it is a combination of the following, in order of priority.
Higher volume run training/preparation
Better overall race management by holding back on the bike
Better Nutrition plan
Yoga
Long T2
Not being subjected to the pressure of being passed by other runners
HTFU
Other good news is that based on the starting distribution, there were now six Kona slots in our category. Well it might be worth going to the roll down after all.
At the roll down the first piece of news regarding our category was good. Only 2 out of the first 6 finishers took their slots, so there were 4 to roll down. However the 7th and 8th both took their slots so my brief moment of hope seemed in vain. Then 9, 10 and 11 were not present so suddenly we're back in business again. I'm standing by the results list so I can see the names as they are being read out. 12th, Lenny Wishart Jr is called out and he takes his slot. Now there is only one left. 13th Karl Zueger and then 14th Todd Briggs are not present either. OH…. MY… GOD!. This is potentially disastrous! The next guy on the list is Rick Crump and he finished less than 2 minutes in front of me. WHAT ON EARTH WAS I DOING IN T2? WHY DID I NEED THAT WATCH SO BADLY? IT COST ME 5 MINUTES! This is going to haunt me for a long time. Rick Crump's name is read out and there is silence. And more silence. And with each moment of silence it dawns on me what is going to happen next. I see Steve MacFessels lips read out my name. "NEIL HAMMOND". "YES" I reply and he sends me towards the Kona office. I cover my face and tears well up in my eyes and through the tears I can see cool, clear Kona waters with me swimming on the surface above shoals of tropical fish at the start of the FORD IRONMAN WORLD CHAMPIONSHIPS. I turn around and there is Ben, my friend, coach, mentor and certainly the person who I want to see most in the world at this moment. Thank you so much Ben. This was an impossible dream and you've made it come true. With hundreds of dollars in my hand I join the line to sign up for Hawaii.