Pre Race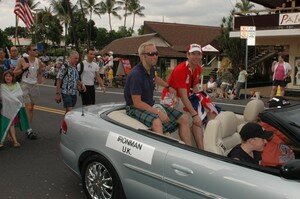 For the first time ever I did not wake up before the alarm. In fact this time I didn't even set the alarm since I assumed the others would wake me up at the correct hour. Well the others woke up on time and left me to catch up on my beauty sleep. Serves me right for trusting the French. So I leapt out of bed 30 minutes late at 4.30am and tried to get some stretching done while stuffing the required amount energy cake inside me. Despite multitasking the stretching and nutrition I was forced to skip my next and most favourite pre-race task which was the phase of fussing, procrastination, panicking and general rechecking everything that I had probably triple-checked the day before. In fact two things did manage to slip through the net unawares at this point. Firstly my canister with the bike tool, tire levers and spare inner tube was left at the apartment and secondly I left the bag to put my personal needs items in neatly in the corner of my room. The latter I would discover at the check in, the former I would remain blissfully unaware of until the next morning. Then with nothing else left to do it was time to make our way along Ali drive towards the start. There were some long lines to get checked in but the lines were moving really fast. The organization here was outstanding. Well what would you expect at the world championships? A sudden panic when I finally realized that I had not brought my personal bags along with me. No problem, I had the intended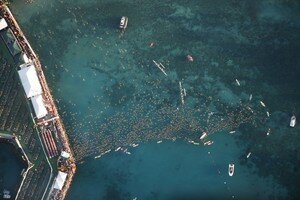 contents and the volunteers made up one for me and my spare bottles of Infinit were safely headed towards the turnaround at Hawi. The body marking was done with the same efficiency and then we were allowed into the bike park. The only gripe I have at this point is regarding the instructions given to all the athletes about wearing the ankle strap holding the timing chip on the Right Ankle. At IMUK we were all advised to wear it on the left ankle because it is on the opposite side of the drive chain. Ok it's an unlikely scenario, but it's a simple thing that removes the possibility of getting the ankle strap caught in the cog. I was told that I might not get a reading as I went over the timing mats. Rubbish, it worked every single time. Why wouldn't it? I checked for a fellow STer's bike "Sentania" but he was already long gone. After the bike prep and set up was done I found Ben again and we went towards the beach, interrupted briefly by the passage of Laurent 'Jaja" Jalabert as he made his way through with his ever-present camera crew. I hooked up Ben's speedsuit and turned around so that he could do the same for me. When nothing happened I looked back round and he was gone!!!. Hmm so that's your tactic is it my friend! Well, just you wait 'till we meet on the Queen K. heh heh.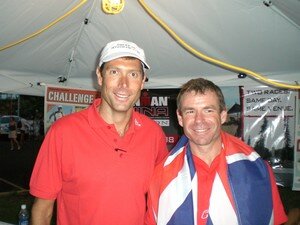 In this race the Pros go off 10 minutes ahead of the Age Groupers. I'm not a fan of this policy which tends to happen in the North American races. To me it's a deviation from the true spirit of Ironman racing. I don't mind if they get a 50 meter start so that they can maintain the integrity of the Pro race, but in essence we should all be racing on the same clock! Anyway once the Pros had finished their warm up and moved out to the start line, the rest of us were allowed in the water. Being on US soil, or in US waters to be more accurate, there are the normal formalities to be observed before the race start. This year a group of Navy seals parachuted into the water and then of course the singing of the National Anthem. Having lived for almost 9 years the US and I've attended many sporting event, actually having the Star Spangled Banner sung before a race that I'm participating in gives me goose pimples all over. I'm proud to be a Brit, but I love the US a big part of me no matter how obnoxious some of the INS agents can occasionally be. Anyway I feel about as American as I can as we try to stand up, face the flag with right hand over heart…. while treading water.
Then a major rumour starts to spread through the athletes. Faris Al-Sultan, the 2006 IM World Champion is sick and will not take part in the race. Does this mean that the German duo can not gang up on Macca, or does it mean that Macca will have no one to sit behind and still be in shouting distance of Normann at the start of the run. Whatever, this should not be my concern for the moment.

7am, the cannon fires for the first time and the Pros are off, guided by the legendary big wave surfer Laird Hamilton using the stand-up paddle surfing technique. If you don't know much about Laird Hamilton then check out a youtube clip of his ride on the Tahiti Teahupo'o on Aug 17, 2000. Awesome dude.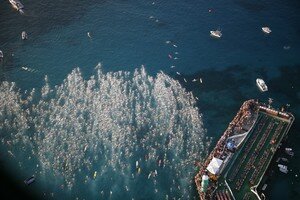 Now we are allowed to swim out to the start line and I place myself near the pier at the front. I'm preparing myself for possibly the most aggressive start that I've experienced in IM racing. I even have a spare set of goggles around my neck in case. I'm not sure why I did this, it just seemed a good idea at the time and I probably won't ever do it again. A team of guys on surf boards ride along the imaginary start line to keep us all in place. A little tip from MarkyV will help me next time. Apparently a signal is given to these guys about 10 seconds before the off so that they can point the surfboards out towards the course. That is the cue for MarkyV to go to red alert-defcon 4 status, while I was happily assuming that we had another 90 seconds to go as my watch and the announcer had just confirmed. BOOM, the cannon goes off. No time to look around and say "is that it?" or "hang on a minute, they just said 2 minutes to go!! What's going on?" No time for any of that because the water around me has literally turned to foam. It's like I'm in the middle of a feeding frenzy on something you'd see on the Discovery Channel and I don't have a steel framed cage to protect me.
I spend the first 20 minutes of the swim defending my personal space which for some reason the other athletes don't seem to be respecting. A couple of minor blows received but no damage done. After that I get into my rhythm and have a moment to take in the fact that I am actually competing in the Ironman World Championships. It's an amazing feeling. I get to the turn around in 33 minutes. OK all things being even this would give me a sub 1h10 swim which is not bad for me for a non wetsuit swim. But all things are not even. Firstly adrenalin and the draft from the field always give me a faster start to the swim, and then of course the current is slightly against us on the way back. I'm peeing rather a lot which also interrupts things because you actually have to slow down or virtually stop swimming before you can pee. I'm also getting some sporadic leg cramping but nothing too serious. However both those issues can be a pain because since the turn I've been trying to stay on someone's feet to keep up with the pace and/or save energy and each bout of peeing or cramps disrupts me enough to lose the pull I had from the front. Eventually I lock on to a good pair of feet and manage to hold there for 15-20 minutes. OK the 1h10 is up and there's still some more swimming to be done. We get into the area of the bay, protected by the pier and see again the amazing colours of the fish swimming below. Then the water gets more and more shallow and finally I'm back to the postage stamp beach. OK 1h14 for the swim. Certainly not great, but you can't really compare times in open water swims as the conditions can vary so much.

T1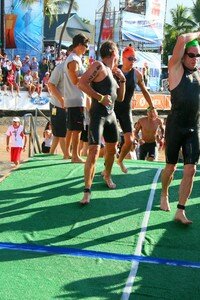 The beach at Kona is about the size of a postage stamp. A very small postage stamp. In fact sometimes it doesn't even exist at all. Fortunately for a less than average swimmer like me, the exit zone was not too crowded by the time I emerged from the water. I climbed the steps to the pier and tried desperately to try and get hold of the zip cord of my speed suit. For some reason I couldn't get hold of it properly so I even stopped for a few seconds until a volunteer helped me out. I know this sounds silly, but my T1 time is a point of pride with me, and maybe the only part of the race that I could beat Ben at, so I didn't want to step over the timing mat until I was sure I could get out of the speedsuit. Anyway, that done I scooted through the showers. The volunteers were all over the place making sure they got you into the right channel to get your bag, even accompanying you to the exact location. It seemed all the time that there were two volunteers for every athlete on the course. What a great job these folks do. I got my bag and was about the only person not to go into the changing tent as all I had to do was dump my goggles (yes both sets), swim cap and speedsuit into the bag and get my helmet and race belt out. I was one of the few who put their helmet in their changing bag, most athletes put their helmets on their bikes. I don't know why, because it is dead time as you are standing by your bike trying to put your helmet on when you could be doing that while running to your bike. The race video shows Chris McCormack struggling with his helmet straps and even Normann overshooting his bike and then once recovered having to take his drinking straw out of his helmet and feed that into his aero bottle. All wasted time!. Hmm, they still beat me by a few seconds, but they will know now that world champions or not, they better not rest on their laurels next time. Anyway 2m24 for T1, 41seconds faster than Ben so I'm already eating into that 7 minute lead he built up over me during the swim. That puts me lifetime 3-0 in Ironman T1s against Ben. If they would just eliminate all the other parts of the race, I'd be World Champion by now.

Bike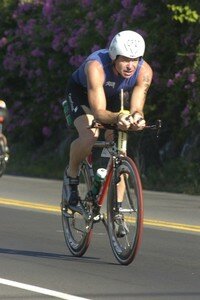 The crowd at the start of the bike are like nothing I've ever seen. The atmosphere is great as befits the World Championship race. So the first few minutes of the bike are spent absorbing the cheering from the spectators before I can get down to the business of getting myself properly oriented. Everything about the bike and the body needs to be checked, the latter being the most difficult as you can't rely on the signals the body is sending you after 1 hours swimming. The bike seems fine, the tires are still inflated, the gears and the brakes all seem fine. I've managed not to drop anything important although I haven't realized that I have no spare tube in case of a puncture. The next thing is checking the body. The heart rate is fine, the legs feel good and I'm trying to get a good cadence going. The head seems clear and now the important thing is to get a bit of drink inside the body fairly quickly. All this needs to be done with a fair bit of care as I'm not the only one who has just got on the bike after a long swim. Some riders are not going too feel so good at the start and more importantly there will be a lot of position changing at the start due to the disparity between the swim and bike levels of each athlete. I check the watch to see how the average speed is doing over the first Km or so and rather unsurprisingly I realize that the Polar needs to be reset to start calculating the bike data. My garmin manages the multi sport transitions perfectly, but doesn't have a battery life long enough for an Ironman race, at least not the kind of time that I take. So I reset the polar and the reading comes back that I'm going at an average of 39Km/h….. uphill! This is what I mean about not being able to judge your effort from what your body is telling you. I'm not feeling anything at all and I'm going at a ridiculously fast pace. Obviously the watch is not calibrated properly. After a while I realize that the watch is correct, and that the adrenalin must be getting to me. We come down Palani and start the short loop. I get a time check from the support group and I'm 6 minutes down on Ben. I caught him in about 60Km at Louisville from 10 minutes down at T1, but he was on a training ride that day. Today I think will be different. Somewhere in the next few minutes I must have got passed by Laurent Jalabert who would have been a few minutes behind me out of T1. However things are rather busy still and whilst I do have a recollection of getting passed by one or two very fast riders, I couldn't for sure say which one was him. So no chance of savouring the moment. [Ben lasted about 70Km until Jaja went by him, and even had the audacity to accelerate back past him which in turn prompted Jaja to put the afterburners on for a brief moment and disappear towards the horizon.]
We arrive back into town, up through the cheering throng lining Palani drive and then the ride really begins. It is 20 minutes since I reset the watch and I've covered 11.6Km, so about 35Km/h. I grab some Gatorade and water at the next feedstation. Why did I get the Gatorade? I have no idea. I have all the calories I need in my Infinit solution, so why am I deviating from the plan. It's the hoarding mentality of the triathlete. See calories, eat calories just in case. Anyway most of the Gatorade is split over my cockpit leaving the bars and elbow pads nice and sticky. Someday I will learn to do and Ironman and stick to the plan!
The next 40 minutes is a slight elevation gain of 80 metres and despite this I have kept an average of 35Km/h. This is encouraging yet worrying at the same time. My best Ironman average is about 32Km/h over the 180Km so maybe I've got a little help from the wind, if not I'm probably going to pay hard for this effort later in the race. The next hour is on gently rolling terrain and after 2 hours I'm at 33.7Kmh. The average is coming down to something more reasonable, I'm just hoping that I didn't use too much effort over the first hour. At all the IM's that I've done since #3 onwards my bike leg has been much stronger than my swim. As a result I've got into the habit, now expectation that I will be overtaking a considerable portion of the field in front of me during the bike leg. This seems a little tougher here. OK it's the world Championships but I still have the same disparity between my bike and swim. Perhaps the fact that this seems harder here is making me push harder on the bike too soon! My legs are feeling a little tight which is a new sensation for me this early in the race, but I'm too caught up in how fast I'm going and I start dreaming about a completely unrealistic 5 hour bike leg which is what my computer tells me I'm on track for. [Looking back there are a few warning signs and signals to learn from].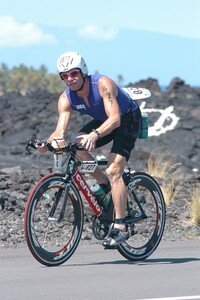 Most IM bike legs are in a loop and this, my 7th IM, will be the first where I can actually see the lead riders. [Well not actually true, Bjorn Anderson did lap me on the 3 lap circuit in South Africa [what an awesome sight that was]. I'm turning over calculations in my head and preparing myself for the moment when I see Normann Stadler streaking past me in the opposite direction lead by the helicopter and a accompanied by cortege of press and support cars and motorbikes. Eventually I hear the helicopter and then I see the activity ahead. An Orbea streaks passed me!!!!!!!!! Wow, who was that? I'm not all that great on knowing which pros ride which bikes. Orbea…. JonnyO?? Well he said he was going to go balls out and he is a good enough swimmer to be in touch with the leaders. That would be awesome if it was him, he's such a cool guy and keeps us all amused on our slowtwitch forum. Actually it turned out to be Chris Lieto, JonnyO was suffering from the same stomach virus that was affecting a number of the athletes. A perplexing dichotomy that in getting your body as physically fit as your can, it seems to expose so many athletes to all manner of illnesses.
Immediately afterwards I get overtaken by a familiar face. It's Neil Kirk. We first met climbing the Col D'Ecre during Ironman Nice a few month's earlier. At IM Nice they print your first name on your bib instead of your last name which is much friendlier. Anyway I remembered his "Hi Neil, I'm Neil too" as he zoomed past me in France. He just missed the Kona slot in France but had a storming race at IMUK about the time I scraped into Kona via the Louisville rolldown. Waiting for Neil to ride past me was on my list of things to look out for during the race and he did not disappoint. He too had no idea who the lead rider was either. With the mystery still unresolved he rolled off into the distance.
Another rider and then a group (properly spaced of course) goes passed but they were way too quick for me to identify although I'm pretty sure I saw Tim Deboom very well placed [I did]. Not to long after the first female goes past and I'm virtually certain it is Britain's Leanda Cave [it was]. Wow a British girl leading Hawaii outstanding]. I had tipped Leanda to make an impact on the race, certainly a top 10, maybe a top 3, but to see her leading was brilliant. A few minutes later I thought I saw Natascha chasing her [it obviously wasn't].
A camera motorbike goes past and I give it a wave. However the driver sees a much more interesting sight up ahead and goes of to spend an inordinate amount of time capturing a female athlete #167 on tape. If you do the research you'll probably figure out why. There are few bystanders but one of them that I pass is also looking at this female and I hear him say into a two-way radio "That's one of ours".
During the second hour I've been calculating the moment when I will see the lead pros coming back the other way. I think the anticipation of this distracted me a bit. I'm torn between enjoying the experience of the race and actually racing. 2 hours at an average of 34Kmh is still a healthy speed and I'm starting to believe that a sub 10 hour race is on the cards! IT seems far too easy and I'm wondering if the hype about Kona being a tough race just that…hype. Well Madam Pele didn't wait long to punish my overconfidence and lack of humility. The next hour includes the slow climb up to the Hawi turn around. Since we passed the first rider coming back in the opposite direction I've started counting off the riders. I had considered that that my best case scenario was to finish in the top 400. As I continue counting off the riders I realize that I am way, way off that possibility. When I get to 600+ I stop counting.... a bit demoralised it must be said. Suddenly it all seems a lot harder and I can see my average speed dropping. The climb to Hawi seems to be against the wind. Maybe it will be easier on the way back. I finally see Ben coming back the other way so take a time check and see how long till the turn. 13 minutes it was so I am 26 minutes down. Finally the undeniable proof that something is not right. Ben has insisted that I'll probably catch him up on the bike, something I wasn't totally convinced of, but I knew that I probably shouldn't be losing 20 minutes on him over less than 90Km. After 3 hours I've covered 93.4Km. Overall that's not a bad average, but it means that I only covered 27Km in the last hour. That's not so good. My stomach feels a little bad. I've probably put too much Infinite inside me and not enough water. Another problem is my nose is running constantly. A minor, by strange irritation, I guess I must have a good portion of the Pacific Ocean still in my sinuses after the swim. Anyway I begin to teach myself that most impressive of cycling techniques.. the snot rocket which I get to practise about every 30 seconds for the rest of the bike. I get the Special needs bag at the turn around, saying a word of thanks in my head for the Volunteer how had helped be out with the improvised bag earlier that morning, and start the journey back. If the wind is with me and I can get the average speed back up then maybe that 10 hour time is still doable.
First up is the descent from Hawi with some wicked cross winds to negotiate. I'm riding the deep rimmed Zipp 808's. With hindsight I'd probably select a 606 configuration but it's a decision I had to make prior to travelling as I could only fit two wheels into my case without incurring the financial retribution of the airline excess baggage Nazis. My 404s were attached to a Cervelo P2SL about 26 minutes further up the road. Apart from a few interesting gusts there wasn't too much to worry about, but you never knew exactly when the next gust was coming so the next 12 minutes were spent at a heightened level of alertness at an average speed of 46Km/h reaching 60Km/h on a few daring occasions. Despite the luxury of descending for the next hour, the wind seemed to be against me and I didn't improve my overall average speed as I had hoped. 4 hours riding done, 125Km covered and now some rolling terrain ahead with the wind in my face. OK 10 hours is off the table completely, and now I have a serious problem. My feet are hurting like mad. I have relatively new cycling shoes, but I thought I had tested them sufficiently in training. Obviously not. They seems very tight, maybe my feet have swollen in the heat, and for some reason they feel badly aligned. Every down stroke is beginning to hurt and suddenly this is not fun any more. I wonder if I'll be able to run even if I manage to make it back to T2. Maybe I should call it a day now and end the hurt. No. I've got a perfect record in 6 IMs and I really don't want to give that up, especially in Hawaii of all places. 5 hours are up and I'm at 149Km. The average speed has dipped below 30Km/h which means a 6hour + ride. I've gone under 6 hours in my last 4 IMs, close to 5h30 in the last 2, so I'm not excited at all about going back over 6 hours again. The last hour I've covered 24Km. I'm in trouble. I pulled up along side a lady whose obviously struggling too. Well, anyone I pass on the bike at this point can't be in too good a shape. "I wouldn't have bothered doing such I good swim if I was going to end up like this" she tells me. Next I pass Andrea from Slovakia who is going a little slower than me. We chat for a short while, really I'm trying to take my mind off the private hell that is happening south of my knees. Then I think of Scott Rigsby…. he'd probably give anything in the world to be able to complain about sore feet. I should think myself lucky and stop feeling sorry for myself. I realize that we'll soon be approaching the energy lab. I'm trying to work out if I'll be able to see the lead runners. And here we come. Again I can't figure out too many of the pros, but I did see Scott Nyedli and I recognized the running style of Marcel Zamora from watching all those IM Nice DVDs (hands very high, if you flipped him 90 degrees forward he would be swimming doggy paddle). I also see Rutger Beke who looks in deep trouble and will not repeat his 4th place of last year. We're coming towards the end of the bike now, we make a few turns and finally there is the chute and T2. I have covered the last 30Km in 1h15 and completed my worst bike leg since IM France 2006. I free my feet, dismount and cross the line into the transition zone. The volunteers take my bike and a volunteer is furiously waving me towards the path around the bike park. I decide to take my time and test the feet a little. They feel a bit sore, but much, much better than they felt a few minutes ago on the bike.
I'm definitely in "enjoy the race experience mood now". I take a fairly leisurely T2 and share a few comments with the volunteers in the changing tent. There's not much more I can do to prolong my stay in T2 and the run course is out there waiting for me. It'stime to get going. The feet are in some nice, comfortable running shoes and actually feel fine now.
The Marathon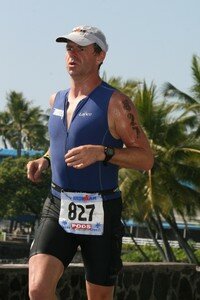 Straight out of T2 I see our friends and I get a chorus of HTFU and they tell me that Ben is about 50 minutes ahead of me. Great, that means he is going well so far! Maybe he can get close to that 10h barrier which he has more than enough potential to achieve but for some reason can't seem to nail on any distance over a Half Iron. My next thought is to ask about the Rubgy semi Final between England and France, but they haven't managed to find out the score yet By my calculations the match will have finished by now. OK I need to find someone with a Union Flag and ask them. As I run up there are Union Flags (btw it should really only be called the Union Jack when it is flown from a boat) all over the place, but they always turn out to be a quarter of the Aussie or New Zealand Flag. There are many more Aussies and Kiwis that there are Brits here, but whilst they are all huge Rugby fans there is no point in asking them as they were all on the plane home a week before having been dumped out of the tournament in quick succession by England and France. I clocked the first mile in 7m46 which is a good start considering the legs were still in bike mode for the first 800 metres. Finally I see a full-bloodied Union Jack and I shout to them about the Rugby. They seem not to know, but as I pass a woman shouts out. "We Won England Won"! At this point, I have to explain to all my Welsh friends that, yes, I am a Welshman and I do fervently support Wales, however I am about the only person in the world who has England as their second team. For the rest of the Rugby supporting World England is either your favourite team, or the team you love to see lose. But not me. Anyway, the news delights me, not least for that fact that I will not have to suffer months of derision upon my return to Paris, in fact quite the opposite, heh heh. I stop turn around and exchange high-fives with the whole of the group there. That cost me about 30 seconds as my next mile was 8m17. On the third mile I needed a pee so rather than adopting the traditional triathlete mode of peeing wherever you happen to be, I decide that I will use the port-a-john which has been conveniently situated just after the aid station I have visited. I passer-by graciously hold my cup of ice-cold water for me while I relieve myself and I continue on. With the pit stop my third mile is 8m44. I finally see Ben running back the other way but the news is not good. He is looking pretty bad and tells me that he can't stop throwing up. I may even catch him, but would much rather beat him with a 10h race, knowing that we were at our best. I don't want to beat him due to a blow up. I wish him well and continue to the turn at the top of Ali Drive. I get passed by a lady in one of the older age groups (yep, this is the World Champs, so get used to that feeling) and re pass her out of pride. For the next mile I'm aware of her footsteps right behind me and I'm desperately trying to keep ahead. Finally she draws level, but it turns out to be a different girl, Jodi Ruby 749. Where are all the guys? Oh yes, they are all about 1 hour in front of me!! So Jody and I run together back to town and we pass the group and this time I pass the news about the rugby back to the crew and, well being French, they were not best pleased. Désolé!! We begin the pay and save hill we see a girl running down escorted by cameras and motorcade. We wrongly assume that this must be the lead girl and Jodi identifies her as Kate Major. She is elated as Kate is based in her home town. We continue up the pay and save hill but there is a sneaky aid station about half way up which tests your resolve to the limit, actually past my limit. I stop to get some drinks and Jodi leaves me for dead.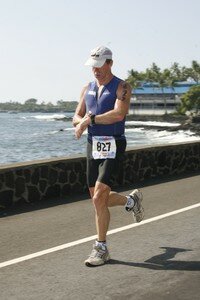 I'm covering the miles in about 8'15 now and head out on the Queen K towards the energy lab. Jodi runs pulls up by my side again, she had apparently stopped for a while but was back in stride and a few a few minutes pulls away again. It's a long way out to the Energy Lab. I see Nicolas Petotot from France coming back and not looking too great but we've passed each other before I'd fully realised it was him. I've been running fairly consistent miles between 8'30 and 9', but after mile 16 the rate has slipped a bit to 9'-10' miles.
Finally we get to the energy lab. They say that this is the most difficult part of the run, but for me it is great. There is music going on and I felt great going in (downhill) and even coming out (uphill). I start chatting to everyone and encouraging all around me. It helps take my mind of my own discomfort and as a result I start to run faster and keep a smile on my face. I'd looked hard for Ben because I had figured that we would cross paths around this point, but to this day we can't work out how we missed each other. At the time though I was concerned that he might have abandoned. I should have known better. Once I'm out of the energy lab and heading back it feels like all the hard work is done and I still think I'm on for a sub 4h marathon. This may not set the world on fire, but it would only be my second sub 4h marathon and would at least validate the previous one in IMKY and give me the confidence next time to go sub 3h30.
I catch up with Andrea (from SVK) again and pass her giving her some words of encouragement. She was walking. A few minutes later she passes me and thanks me. However I got her a few miles further down the road when she was walking again. Then a girl named Angie De Fillippi runs up beside me and we run together for a while. "I think we might escape the glow sticks she says as the sun starts to set." She eventually pulls away from me just as we are getting to town. Finally Palani hill arrives again and I run down it, overtaken by Hans Koeppen in his wheelchair. OK it's no surprise to be overtaken by a guy on wheels going down hill, but remember for every down hill, he had to go uphill and he also had to cover 180K on a hand cycle and also a little 3.8K swim without the use of his legs. And he can still do a 2h38 marathon after that. The hill was just incidental, the guy is awesome.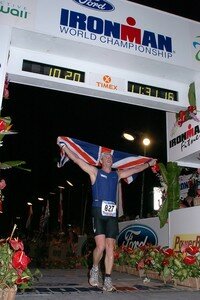 We then have about 2K less and I can feel the strength building up in me and I start to pick up the pace again. We hit Ali drive and I'm now motoring sprinting past a lot of runners. I grab my flag and the last person I sprint by is Angie again and put about 100 metres on her before crossing the line. In 11h31'17". (Ben had recovered and picked up his run and finished in 11h10'17.) Well if all the other IMs finishes were great then how on earth do you describe finishing at Kona. Quite simply if you don't know then you have to do it yourself to find out. The time isn't important, it was respectable at best, but now I want to come back and do better. Next time I will not tempt the wrath of Madam Pele with my overconfidence.
Finishline
I don't' want to sit down, want to keep moving so my legs don't' seize up. I get the Lei and the medal and I am escorted to the assembly area at the finish. First person I see is Scott Neyedli and his father. After checking his result he bursts out with the great news that Christine Wellington won the women's race. Christine Who? Nah just kidding, I knew she won in Korea although it seemed that this had gone entirely unnoticed and unremarked in the rest of the triathlon world. A British winner, England won in football and beat the French in Rugby on the day that I finished my first Kona!
I never actually saw the Julie Moss crawl to the finish line back when it happened. In fact I never saw that until a few years ago when I started triathlon in 2005. What inspired me all those years ago was the rivalry between Dave Scott and Mark Allen. It was grueling for both and usually heartbreaking for one or the other. I wondered what on earth you would have to go through to complete that race. I told myself I wold love to find out the answer to that question, but inside of me I suspected it was a something that I would never do. And now, all these years later, I've actually retraced their footsteps (albeit rather slower) and completed IronMan Hawaii. Now how to you beat that?