Mon: 2h Bike Trainer/ 1h30 Run. I was supposed to include 5 x 10 mins @ 15Km/h on the run but could only manage 3
Tue: 2h30 Bike Trainer + 5K Swim in the evening
Wed: 1h30 Bike Trainer
Thu: 3h10 Bike (Longchamps) + 1h22 Run including 20 mins @ 14Km/h
Fri: 2h40 Bike Trainer, 3.5K swim
Sat: 2hRun (including 4 x 5K @ 14Km/h)/ Swim meet Anne Pinon
Sun: 3.5K swim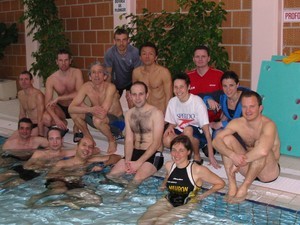 Not a great week but I got most of the work done. The weather was quite bad so most of the bike sessions planned for longchamps were done on the home trainer which means I can watch The Sopranos to alieviate the boredom. When I finally got to Longchamps on Thursday I was going really well for 3 hours and a cycle accident on the piste happened and I stopped to help out. I would have easily made the 4h goal at 33Km/h feeling very good so I was pleased about that.

Saturday was a great day. A tough run session in the morning averaging 13.8Km/h for 2 hours. Then I got a call from Ben to fill in as a replacement in the swim team that afternoon. I managed the 200m fine in 2m48s and then surprised myself with a 33s for the 50m free in the relay. Then came the 100m and I was panicking a bit because I have tried a number of times to break 1m20 and never succeeded. But this was for the team and I just decided to HTFU and go for it. Result, an unbelievable 1m12 and I kept the lead for the team in our series. I brought some new goggles and they worked fine, even with the diving start. Then it was off to the pub (Celtic Corner) in Paris to see Wales clinch the GRAND SLAM in the six nations.