21 avril 2008
Race day.
The start line was very wide which meant that there was not much jostling for position going on in the 10 minutes before start. I managed to get on the front line and waited for the starting cannon. This time Mike Reilly's 2 minute warning was actually given 2 minutes before the start, unlike Kona where the 2 minute warning was about 15 seconds before the cannon. I'm ready, the cannon goes off, I start my watch (for once) and here we go. I push hard at the start, I know I'm going to go through my uncomfortable phase for the first 10 minutes or so. The usual unease as I come to terms with the claustophic feeling of being squeezed on both sides by the swimmers next to me and the confinement of the wetsuit which is heightened by the exertion of the start. Then of course the psychological claustrophobia of being locked in and committed to the 'Ironday' which, except for a few seconds now, all lies ahead of me. The swim from the previous weekend alleviates most of these negative sensations fairly quickly and allows me to concentrate on the race. The new goggles that felt so weird last week now feel great and the tighter wetsuit does not worry me since I know I completed the same swim in it 7 days earlier. Everything will be fine then. Except for the IMLou swim which was an individual start, this is the quickest I have ever been able to mentally tune into the race rather than allow myself to get worried by the environment I am in and the challenges ahead. I am a much more confident swimmer now and I expect to be FOP (Front of Pack) at least if finishing in the first 10% for the field is a suitable qualifier for that definition. I have swimmers tight on each side of me and more than likely they have the same thing going on. Our strokes are sporadically hindering each other but everyone presses on. Finally the guy on my left raises his head and gives up a few metres to gain some space for himself. The mini battle is won. I've been the one to yield on so many previous occasions but really you don't gain what you hope for when you yield because you just find yourself in a similar situation within seconds. In fact, if you are ahead of the majority of the field, then pushing forward and keeping up the pace is probably the best way to gain the space that you crave. I keep pushing and luckily avoid any serious trouble with my fellow competitors. Nobody means anybody any harm at this point, but given the situation we're all in, and the anonymity provided by the wetsuits, caps, goggles, everyone else becomes an obstacle to be avoided or negotiated as best as possible while continuing the forward progress. I get into a nice stroke and keep up the pace. I have not really experienced the initial breathlessness of the sudden exertion that I felt in most races including last week's swim. This is probably because I was expecting it and thus mentally more prepared to resist the sensation. I feel like we have been swimming for a good long while now and I risk my first time check, expecting about 20 minutes. 11 minutes my watch reads! I sort of knew that my estimate would be way over, it always is. We make solid progress towards the bridge [road number], beyond which is the turnaround. It's difficult to judge distances in an open water swim but I feel as if I'm on a good pace. I am thankful for the tinted goggles tip (no I have never worn tinted goggles before). It was less obvious in last week's swim which didn't start until 10.30am when the sun was much higher in the sky. It's about 7.20 am now and the sun is still only just above the horizon and directly in front of us. My goggles have misted up a bit, so I pause for a second, let in some water which clears the problem for good. I look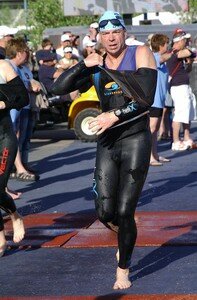 across the river to my left for signs of the lead swimmers heading back, nothing yet.. A few minutes later I check again and I can see movement in the water, further across the lake than I had anticipated, but the good news is that I'm nearing the turnaround myself. Another confirmation of my improved swimming level. We make the first 90 degree turn and head across the river to the other side. Soon we hit the second turn which will send us back towards the start. I figure this is the halfway point and I take a time check. 29 minutes. OK great. That should give me my sub 1 hour swim, even discounting the fact that the swim, like all the IM legs is done with a positive split. Perhaps not due to the fatigue that will be felt on the bike and run legs, the positive split on the swim is often simply due to the fact that the draft is much stronger at the start when the field is more tightly grouped. We head back and the course veers off towards the bank which catches a few swimmers out and actually creates the more bumping than I experienced at the start. We clear the bridge and ahead the finish comes into view. Then I realize that my wonderful calculations are all wrong since we have to swim about 100 metres further on the way back than we did on the way out. So my 58 minute swim will certainly go over 1 hour. OK so maybe last week's swim was a little short. Nevertheless I fell like I have put in a good swim so far and on track for my day. We swim under the twin bridges and make the final turn towards the shore. My watch passes the one hour mark and I remind myself than in about 5 minutes time I'm going to be on my bike pedaling. It seems a strange concept, but I have to start running the transition process through my head to get prepared. I remember to start kicking my legs more to get the blood circulating. I take stock of the situation in front of me. There are a number of 'lanes' on the ladder exit. The quickest will be to take the leftmost lane since the transition area lies to the left. Fortunately this lane seems to be free and I make my way towards it. I make sure I get my feet up on the ladder to avoid all risk of pinching my wetsuit on the steps. A Volunteer pulls me up and I cross the timing mat with the clock reading 1:02:53. A little slower than I had hoped for, but actually still faster than 1 male pro and 5 women pros. So maybe not all that shabby.

Race Status (excluding DNFs) 1h02m53s
Overall 246/1690
Age Group 23/266

T1 Immediately coming out of the water there are helpers on hand to help us out of our wetsuits. They are paired up and I spot a twosome waving that they are free. The arm or my wetsuit snags my watch which costs me a few valuable seconds as I free it and then I am separated from the wetsuit in short order. I stand up and begin running and rolling up the wetsuit before whipping off the cap and goggles. I sprint past a number of athletes and make my way round to the bag area. This is the first time I have seen the bags not hooked up on racks. I find my bag immediately and sprint through the changing tent. I pause to exchange the contents of the bag with the contents of my hands, fit on my cycle helmet, number belt and with cycles shoes in hand it's out to the bike park. Apparently they were going to have the bikes ready for the athletes, but I wasn't really banking on that system. Fortunately my bike was located near the main corridor. I slip into my shoes and grab my bike, race out of the bike park and over that timing mat which will record my T1 time upon which I always place a grossly exaggerated importance.

3m13s
Overall 40/1690
Age Group 5/266

Race Status
Time 1h06m06s
Overall 189/1690 Gained 51 places
Age Group 15/266 Gained 8 places.

The Bike


We mount the bikes and after a few stabs I managed to get my shoes clipped in. We ride gently through the park on the narrow no pass zone and exit onto the road. I quickly get situated and everything feels good. After about 500 metres I check my speed and realized that I haven't started the Garmin so I take care of that. The average immediately kicks around 34Km/h but we are heading into a strong wind. I start to get some Infinit into me and make the turns as we alternate between east and north on our way out of town. This is the half of the course that I had not ridden in all my training sessions over the last few weeks. The traffic precluded any serious training on this part of the course and I figured that the interesting part of the course would be the beeline highway. In all my training sessions over the last few weeks I had not encountered the winds that we are now getting on race day. I had done some great sessions up to about 105Km and always managed a comfortable 34Km/h average. Some days I'd reach the the Shea Road turn around with about 31K/h on the clock but it would always finish back at the other end with the 34 average. Today the average was dropping much lower and the beeline was going to be interesting. We make the turn onto the beeline and I wanted to feel that I'm on familiar ground. But even the fact that I'm riding on the opposite side of the road and on the main road as opposed to the shoulder feels odd. Some parts of the road surface are not as smooth as the shoulder that I have been used to. I fight the winds up the beeline and about as expected I see the lead bikes coming back the other way. With the wind behind them it is impossible to identify the riders. I'm sure I saw Jonnyo riding in about 3rd or 4th place but wasn't too sure since the rider of that P3C seemed to be wearing ladies stockings on his arms. Either he is bringing his home life to work or Jonnyo is now being sponsored by Victoria's Secret. A few minutes later the first real female goes past and it is Michellie Jones. The talent differential between where I am and the Pros is significantly exaggerated by the fact that they are all going downhill with the wind behind them and I am doing the opposite. But nevertheless they look fast.
The road angles slightly so the wind is not directly in our faces, but the incline gets a bit sharper for the last few kilometers to the turnaround. I make the turnaround in about 1h03 and my average speed has dropped to almost 28Km/h. I'm not sure if I can get it up to the 34/35 that I was looking for but the end of the first loop, but let's give it a go. I've counted down the athletes as we the go past on the other side. I've got myself up to 175th place and about 120th in the Age Groupers. The swim was a little slower than intended, which would have cost a lot of places, but not much in time. It's still early in the race so despite the low average speed I'm not too far away from my plan. I grab some water from the aid station and begin the descent. Well the descent was a learning exercise. I had counted on picking up a lot of places, but I find myself getting passed by a string of bikes. They all have disc wheels and are all hammering it down the beeline. I pick it up as fast as I can but really to no avail on the race position front. At the bottom of the beeline we turn towards town. I have dropped about 20 places already. We now have the wind behind us so I end up going only slightly slower than we were on the down hill. I get back into town and go through hot corner where the noise from the spectators gives me a mental break from the grind of the bike and the hurt that it is starting to put on my body. We go over the bridge and back again and repass hot corner. This is about 1 lap done. So 1h03 to get out of town, and 41 minutes to get back. I have continued to lose places but my average speed is up to 34.3Km/h and this would give me a 5h15 bike split which was my goal. I'm on track, but for some reason I'm not feeling that good.

I begin lap two and the wind seems even fiercer than the first lap and I'm not pushing as hard as I was. The trip out of town eastwards is really tough and there is a slight relief as we begin to head north on the beeline again. That soon gets harder as the gradient starts to increase. I check my nutrition situation, I've been able to get about 1200 calories of Infinit inside me so far and I have 400 left before I pick up another 600 in special needs. I want to get rid of the 400 I have on the bike to free up some space for water as the heat is starting to pick up. I make an effort and finish off the remainder of the Infinit I have on board. My speed is really low on this part and this time I don't think I'll be able to pick it up as much on the way back. I begin making deals with the devil. Just get me to the turnaround by XXX time and I'll take get back to town in XX minutes. I think I reneged on all the deals I made. I probably owe my soul to some very dark forces now. I get to the turnaround and begin the 2nd descent back into town. I tell myself that half the course is complete and better than that 2/3rds of the remainder is downhill with the wind on my back. I pick up my special needs bag, which I actually have to stop my bike for, get my last bottle of Infinit out and start the descent. But I just can't push to the speeds that I made on the first lap. I'm really doing little more than coasting and as a result I'm getting passed by even more riders, except they don't all have disc wheels and Cervelos. There is a rough patch on the road as we head back towards town where we cross over to the other side of the road. It is very bumpy for a few hundred metres and I was not paying as much attention as I did on the first lap. I take some hard bumps and then catastrophe strikes. I lose the yellow sponge plug on my aero bottle. Oh my God how can I go on like this? Disaster strikes again as I get nearer to town and another bump causes my tool canister to fly off the back. I stop my bike and walk back to collect it. I'm not really even running to do this. I want to this to end. Ithink about quitting. I must be so far down my AG place that I'm well out of contention for Hawaii now. Actually this doesn't even bother me. In fact even if I get a slot, I think I'll probably decline. I just wonder why I keep on putting myself in this world of hurt, why would I want to go through it all again. I get back on the bike and complete the second loop. I know this loop has taken about 15 minutes longer than the first loop. My 5h15 is now in tatters and if I don't get my game together I'm looking at a 6hour bike leg again.

Coming out of town for the last time Maggs goes past me. We share a few words about our rotten swims (compared to the previous week's race). I guess she is on track for her 5h45 bike so she is probably up with her plan. She goes ahead and I figure if I can keep in touch with her then I will salvage something out of the bike. This spurs me on to make a bit more effort, and although Maggs is out of view now, I've picked it up a bit stopped the bleeding. On the climb up the beeline for the last time I realize that I haven't even touched my INFINIT. I need to get that inside me quickly and I make the effort to do so. I pick up some more water and squirt some all over me to clean off some of the sticky mess that has been splashing all over me since I lost my yellow sponge. For the first time ever I begin to feel a little hot in the aero helmet and I pour some water over the back of my neck. Using the visor has worked out pretty well, although when I go through the shady areas under the roads the vision gets pretty bad. But out in the sun it's fine. I make a much better effort up the beeline for the last time and put even more effort in the ride back home although now the wind has changed to be a lot less help on the return. Suddenly everything seems a little better now knowing that this torture will soon be over. I want off the bike in the worst way and that is going to happen very soon. We go back through town, over the bridges. I've actually done the third loop faster than the second. What does this show? Probably that I still have a race left in me and probably that my poor second loop is as much about concentration and focus as it is about ability. Upon reflection my worst IM bike legs have been on the less mentally challenging courses. I need to work more on my mental effort. I exchange a few words with a rider who feels the same way about wanting to get off the bike. 'I'm ready to start a new race' I shoot back as we finally take the path to the transition area. This is a no pass zone and the rider in front of me is obviously not as anxious as I am to get off the bike as we crawl at snail's pace towards the dismount.

I'm there… it's done… over with. Now let's see how they run.

5h45m35s
Overall 285/1690
Age Group 42/266

Race Status
Time 6h51m41s
Overall 238/1690 Lost 49 places
Age Group 31/266 Lost 16 places

T2
As I hand off my bike to the volunteer, one of my shoes falls of the pedals. I'm already about 5 metres away and running as the guy calls to me holding it out. Well either he can figure out how to hook the shoe back onto the bike or I've lost a shoe. At the moment I'm not in the mood to care. I run over to the bag area and pick up my T2 bag and rush into the tent. I make a reasonably quick change but forget to start my Garmin which should have been the first action. I do so and it sets off on its merry task of locating the satellites while I put my socks and running shoes on. Cap, Glasses and I head out of the tent dropping the T2 bag off. I pause to get some sunscreen and check the Garmin which is still busy looking into outer space for a friendly contact. I still have my Polar on my left wrist which is where I want the Garmin. So this will all have to be changed around. I start trotting and change my Polar to my right wrist and put the Garmin on the left. This must look really efficient as I head out to start the run.

2m43s
Overall 189/1690
Age Group 21/266

Race Status
Time 6h51m41s
Overall 235/1690 Gained 3 places
Age Group 31/266 No change

The RUN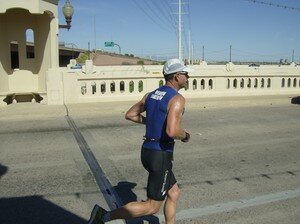 I see some partojohns and figure it would be better to pay a visit now rather than break my stride later in the race. Seconds later I'm on my way running, Garmin has located something in the sky so at last, about 500 metres into the race, I can start it. I feel like I'm only jogging lightly but Garmin tells me that my average speed is 13.5Km/h. This is very strange. In all the excitement I'd forgotten to check on how the legs felt. Actually, they feel great. For about the first time ever I feel I'm starting an IM marathon in really great shape. The average speed holds. It's unfeasibly fast, but I feel OK. I pass a few runners and start looking ahead. There is a girl about 50 metres up the road dressed in the same kit as Michellie Jones. But I know it can't be her because MJ would be running away from me which means that I would have seen her go past me within the last few minutes… which I haven't… actually no one has gone past me yet…but anyway it can't be her…. can it? She is rather tall though. I mean if it wasn't for the FACT that 'because she's not running away from me it can't be her' you might easily mistake her for MJ. Very strange the resemblance though. I look ahead of her and there is a cyclists about 20 metres in front leading her round the course. This is all very odd, and getting odder because she is getting closer. WOW, this is Michellie Jones, and I'm about to overtake her on the run. Well the only other possibility then is that she has bonked. So it happens. I run past the 2006 Kona champion. I run as wide as possible. If she is in trouble then the last thing she needs is any kind of comment from an AGer going past her. Well make the most of it Neil, if your previous form is anything to go by, she'll be going by you about 5K down the road… at most.
The first few Kilometers roll by and I feel great. I'm flying. I have never felt this good on and IM run, not even close. The average speed starts to drop and settle at 13Km/h. I'm actually quite reassured by this as it brings a bit of reality back to the situation. I notice that it drops a 1/10th each time I pass an aid station. The aid stations killed my run splits at Louisville, adding about 20 seconds to each Km so I make a conscious effort to not lose time as I pass them, a tactic which was probably to cost me more time than I would save later on. On the first lap I know than anyone I go past was in front of me. I reel in many familiar figures that blew
past me on the bike, many are already walking. I have no idea of my race position, nor any real objective to chase the Kona place, but I'm enjoying myself. This is a real breakthrough on the run. I wonder how long it will last. About 5K into the run I see Maggs ahead. I try to give hew a word of encouragement as I go past, but it's never a motivating thing to be overtaken. Forgive me Maggs? More Kilometers roll by and I've completed the first mini loop and I am back at hot corner. No one has yet run past me and I'm clearly running better than about 95% of the runners out there. I'm in the zone and I'm picking up a lot of good feedback from the spectators lined along the road. I start on the larger of the two loops still keeping the speed up. Over the bridge and at the just as I'm about to turn to run alongside the river a familiar sight shoots by in the other direction. It's the incredibly talented Rachel Ross, running like a mother. I want to give her a shout but we are running well in opposite directions. I figured I'd have to achieve my sub 10 target to beat her, that seems a bridge too far now. I run round the larger second loop, back across the bridge and arrive back at the race hub, still with the average speed at 13Km/h, still feeling great, still haven't had anyone run past me and still wondering how long it was going to last.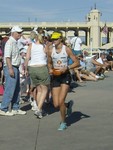 I begin the second of the three laps. Now there are more athletes pouring on the course and I know that anyone I pass was not necessarily in front of me. A lot are still walking or barely running. I feel strange feeling this good. If I can put in a good second lap then I'm looking at an unbelievable 3h15 marathon. I can't make my sub10h IM, but a good run would be a more worthwhile outcome. The only problem I have now is that with more athletes on the course the aid stations are becoming very congested. I was probably skipping by them too quickly on the first lap, only getting one or two gulps of fluid instead of slowing down to reduce the spillage and get more drink actually inside me. Now, things are even more difficult. At two aid stations there are so many athletes hanging around the table that I've gone past the whole area without being able to get a drink. I'm still feeling OK, but those were real mistakes. I hit 20K in 1h32 running time. Awesome, my second 10K has been as fast at the first. I keep it up for another 2Km and then at Km23, a slight incline pushes my Km split over 5 minutes for the first time. I regroup myself and try to keep things going and I am rewarded with a good Km 24, but on Km 25 the average speed goes down a tick to 12.9Km/h. It had to happen, I was expecting it. I pass the 26Km mark in just over 2 hours but I can feel the legs getting heavier. I'm now heading along the river walk back to the race hub at the end of the second lap. The small gradients on the course to get up to the bridges have started to take a little bit out of me whereas on the first lap they were just fun obstacles to run through without breaking stride at all. As I approach the race hub, for the ed of the second lap I hear footsteps coming along beside me. A runner draws level. I check out the leg (a Pro) and the name (Wolfgang). OK I still can't be doing to bad because this guy is making his final run to the finish line and he's running only slightly faster than me. He goes past and head towards the finishers coral as I continue along the river path for my final lap. Another runner appears on my shoulder. We both check each other out and realize we're in the same age group. We confirm to each other that we've both got one lap left. I have to guess that this was Shawn Burke. He is running very well, and looking at his splits he managed to really pick it up over the last lap. He started the run 11 minutes in front of me. I must have caught him quite a few miles back and he is now obviously making a huge final effort. He ended up finishing 15 minutes in front of me to grab the 9th and final slot for Kona. That was an awesome effort Shawn. I had an idea at the time that I would need to stay with you, but the legs were already too heavy. You ran a huge last lap and either you have a lost of race experience and know how to manage the run, or you put yourself in a world of hurt for that last slot. I suspect a bit of both, but you thoroughly deserved your reward.


I managed to keep some sort of form together for the next 3-4Km but on Km32 my pace dropped drastically to about 10K/h. I made a conscious decision to stop at one aid station and take on board as much as I could as I could feel the cramps building up in my legs. It was really just the legs. Everywhere else felt fine. I didn't feel really fatigued, and my sunscreen strategy was working so amazingly well I was obviously not feeling the heat like most of the competitors out on the course. But I knew that if I pushed my legs too hard then they would give out. The climb up to the bridge on the last loop was really hard and the Kilometres were certainly not rolling by with the ease that they were just 30 minutes previously. I tried to hold the pace as much as I could, but in closing out the race I knew that my 3h15 marathon would not even end up as a sub 3h30. Nevertheless it is still a huge improvement and I know I will still break 10h30 for the first time. The last few kilometers of most of my IMs have been great, but for the first time here I can't pick it up, it's really hurting. I get to the finishers lane and realize I have now idea of where the end is. Suddenly the last 500 metres or so is killing me. I commit the runner's sin of looking over my shoulder to see what is behind me. Fortunately no one is close enough to take advantage of my weakness. Agnes hands me my British flag and twirling it above my head Mike Reilly calls me into the line saying I am waving the French Flag. Over my dead body, Mike!! A final twirl of the Flag and I jump as high as I can over the line!

3h32m11s
Overall 56/1690
Age Group 8/266

Race Status
Time 10h26m32s
Overall 111/1690 Gained 124 places
Age Group 14/266 Gained 17 places

The aftermath
Damn, I shouldn't have jumped across the line. That lesson I have learned before, and yet I do it again. I land and my left leg seizes up. I'm about to fall and two volunteers catch me in time. Another puts the cap, T Shirt and medal in my arms and I am literally carried away to the medical area. I can't walk, my legs are cramping, I'm in agony. There is a shaded area outside the medical tent and they lay me down there for a while offering all sorts of concoctions that make my stomach turn just on hearing them. Gatorade? Are you kidding? I finally try some Sprite. I'm lying there and then my right quad cramps up very badly. I have never in my life had a quad cramp up. Of course my reaction is to try and stretch out my leg which makes it worse. I scream out and two medics come over and bend my leg which finally relieves the agony. I'm now lying there again shivering cold in 90 degree heat. The put a cover over me and I lay my head back hoping the nausea will go away. My wife says that my leg muscles were twitching all over, yet I'm not aware of anything.

I get another visit from the medics after about 20 minutes and I'm really not feeling good at all. Finally they take me into the tent and after lying me down on a stretcher I vomit by the side of the bed. The get me a bowl and I empty what else I have left in my stomach. Finally they get an IV into me. About 10 minutes later I feel great. The first bag of fluid has gone in but my blood pressure is still way to low so I get another bag. They check my vitals again and stand me up. I feel great. Actually 2 hours has gone by, but that IV was awesome. I feel like I could start running again. They check me out and I can actually walk normally back to the transition areas to recover my stuff. Every other IM I've barely been able to hobble round the race site for my least favourite task. That's it. I will do whatever I need to do after any IM to get hooked up to an IV. It should almost be mandatory. If I could have had one after 26K of the run I could have carried it round the course faster than I ran the last lap. I wonder if you can put an IV in your run special needs, now there's a thought!

OK so 14th in the Age group. That's my best. I also set PRs in the swim (2 minutes), the run (20 minutes) and the overall time (20 minutes). I need to work on the bike, stay disciplined on my aid station management on the run and the Sub 10 will be there for me. I've now got a whiff of what a sub 10 is, I've almost touched it. I can feel it in front of me. It could be as close as 10 weeks away in Nice. That would be …….. well, nice.

I didn't get the Kona slot. There were 9 going and all the top 9 took them as expected. I didn't break 10 hours either. But I feel great about what I did out there. If you can run an IM like that, and even better as I'm confident I can, then good things will happen. A lot of very good cyclists beat me into T2, but I got to the finish line ahead of many of them. If Kona doesn't happen this year then so be it. But I know I can put a great run leg together and at the moment that is worth far more to me.
01 avril 2008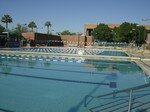 23 mars 2008
After a good finish to last week, this week was the worst training week since I restarted training in mid November. I think the efforts on Saturday, combined with the celebrations of Wales winning the Grand Slam and Eric's 40th birthday bash fool their toll. Monday I managed a good session on the Home Trainer with a run. On Tuesday I visited Longchamps for a 4 hours cycle ride but my body gave out after 2 hours. A sudden drop in energy level which I couldn't really explain until the evening when I realised that I wasn't up to the swim session. Wednesday was a rest day and I needed no second invitation for that. With renewed vigour I went to Longchamps on Thursday and upon arrival realised that I had forgotton my cycle shoes. I lost an hour going back to get them and did managed 3 hours on the bike followed by a good run. Friday the weather only allowed a session on the Home Trainer and my first and only visit to the pool of the week. Saturday I put in a good run and Sunday I needed to rest to prepare everything for the trip to Arizona.
Total for the week. 7 hours bike, 3 1/2 hours running and 1 hour in the pool. I am not feeling at all well but I'd rather be ill now than later.
17 mars 2008
Mon: 2h Bike Trainer/ 1h30 Run. I was supposed to include 5 x 10 mins @ 15Km/h on the run but could only manage 3
Tue: 2h30 Bike Trainer + 5K Swim in the evening
Wed: 1h30 Bike Trainer
Thu: 3h10 Bike (Longchamps) + 1h22 Run including 20 mins @ 14Km/h
Fri: 2h40 Bike Trainer, 3.5K swim
Sat: 2hRun (including 4 x 5K @ 14Km/h)/ Swim meet Anne Pinon
Sun: 3.5K swim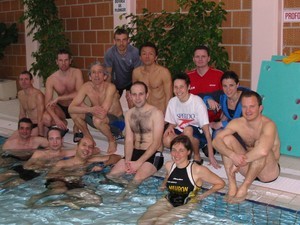 Not a great week but I got most of the work done. The weather was quite bad so most of the bike sessions planned for longchamps were done on the home trainer which means I can watch The Sopranos to alieviate the boredom. When I finally got to Longchamps on Thursday I was going really well for 3 hours and a cycle accident on the piste happened and I stopped to help out. I would have easily made the 4h goal at 33Km/h feeling very good so I was pleased about that.

Saturday was a great day. A tough run session in the morning averaging 13.8Km/h for 2 hours. Then I got a call from Ben to fill in as a replacement in the swim team that afternoon. I managed the 200m fine in 2m48s and then surprised myself with a 33s for the 50m free in the relay. Then came the 100m and I was panicking a bit because I have tried a number of times to break 1m20 and never succeeded. But this was for the team and I just decided to HTFU and go for it. Result, an unbelievable 1m12 and I kept the lead for the team in our series. I brought some new goggles and they worked fine, even with the diving start. Then it was off to the pub (Celtic Corner) in Paris to see Wales clinch the GRAND SLAM in the six nations.
04 mars 2008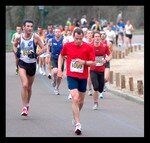 Km 1: 4'09, Km 2: 3'46, Km 3: 3'52, Km 4:3'46,
Km 5: 3'44, Km 6: 3'41, Km 7: 3'48, Km 8: 3'48,
Km 9: 3'47, Km10: 3'46, Km11: 3'48, Km12: 3'50,
Km13: 3'56, Km14: 4'05, Km15: 3'55, Km16: 3'59,
Km17: 4'08, Km18: 3'58, Km19: 3'53, Km20: 3'58
Km21:3'51, 195m 0'42s

0- 5Km: 19'17
6-10Km: 18'50
11-15Km: 19'34
16-20Km: 19'56

13 octobre 2007
Pre Race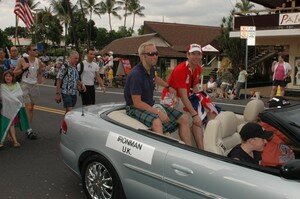 For the first time ever I did not wake up before the alarm. In fact this time I didn't even set the alarm since I assumed the others would wake me up at the correct hour. Well the others woke up on time and left me to catch up on my beauty sleep. Serves me right for trusting the French. So I leapt out of bed 30 minutes late at 4.30am and tried to get some stretching done while stuffing the required amount energy cake inside me. Despite multitasking the stretching and nutrition I was forced to skip my next and most favourite pre-race task which was the phase of fussing, procrastination, panicking and general rechecking everything that I had probably triple-checked the day before. In fact two things did manage to slip through the net unawares at this point. Firstly my canister with the bike tool, tire levers and spare inner tube was left at the apartment and secondly I left the bag to put my personal needs items in neatly in the corner of my room. The latter I would discover at the check in, the former I would remain blissfully unaware of until the next morning. Then with nothing else left to do it was time to make our way along Ali drive towards the start. There were some long lines to get checked in but the lines were moving really fast. The organization here was outstanding. Well what would you expect at the world championships? A sudden panic when I finally realized that I had not brought my personal bags along with me. No problem, I had the intended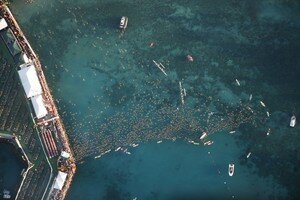 contents and the volunteers made up one for me and my spare bottles of Infinit were safely headed towards the turnaround at Hawi. The body marking was done with the same efficiency and then we were allowed into the bike park. The only gripe I have at this point is regarding the instructions given to all the athletes about wearing the ankle strap holding the timing chip on the Right Ankle. At IMUK we were all advised to wear it on the left ankle because it is on the opposite side of the drive chain. Ok it's an unlikely scenario, but it's a simple thing that removes the possibility of getting the ankle strap caught in the cog. I was told that I might not get a reading as I went over the timing mats. Rubbish, it worked every single time. Why wouldn't it? I checked for a fellow STer's bike "Sentania" but he was already long gone. After the bike prep and set up was done I found Ben again and we went towards the beach, interrupted briefly by the passage of Laurent 'Jaja" Jalabert as he made his way through with his ever-present camera crew. I hooked up Ben's speedsuit and turned around so that he could do the same for me. When nothing happened I looked back round and he was gone!!!. Hmm so that's your tactic is it my friend! Well, just you wait 'till we meet on the Queen K. heh heh.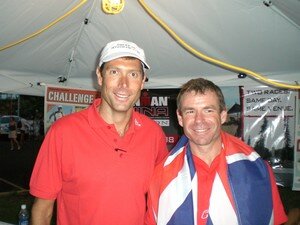 In this race the Pros go off 10 minutes ahead of the Age Groupers. I'm not a fan of this policy which tends to happen in the North American races. To me it's a deviation from the true spirit of Ironman racing. I don't mind if they get a 50 meter start so that they can maintain the integrity of the Pro race, but in essence we should all be racing on the same clock! Anyway once the Pros had finished their warm up and moved out to the start line, the rest of us were allowed in the water. Being on US soil, or in US waters to be more accurate, there are the normal formalities to be observed before the race start. This year a group of Navy seals parachuted into the water and then of course the singing of the National Anthem. Having lived for almost 9 years the US and I've attended many sporting event, actually having the Star Spangled Banner sung before a race that I'm participating in gives me goose pimples all over. I'm proud to be a Brit, but I love the US a big part of me no matter how obnoxious some of the INS agents can occasionally be. Anyway I feel about as American as I can as we try to stand up, face the flag with right hand over heart…. while treading water.
Then a major rumour starts to spread through the athletes. Faris Al-Sultan, the 2006 IM World Champion is sick and will not take part in the race. Does this mean that the German duo can not gang up on Macca, or does it mean that Macca will have no one to sit behind and still be in shouting distance of Normann at the start of the run. Whatever, this should not be my concern for the moment.

7am, the cannon fires for the first time and the Pros are off, guided by the legendary big wave surfer Laird Hamilton using the stand-up paddle surfing technique. If you don't know much about Laird Hamilton then check out a youtube clip of his ride on the Tahiti Teahupo'o on Aug 17, 2000. Awesome dude.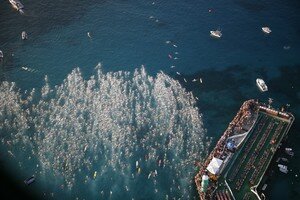 Now we are allowed to swim out to the start line and I place myself near the pier at the front. I'm preparing myself for possibly the most aggressive start that I've experienced in IM racing. I even have a spare set of goggles around my neck in case. I'm not sure why I did this, it just seemed a good idea at the time and I probably won't ever do it again. A team of guys on surf boards ride along the imaginary start line to keep us all in place. A little tip from MarkyV will help me next time. Apparently a signal is given to these guys about 10 seconds before the off so that they can point the surfboards out towards the course. That is the cue for MarkyV to go to red alert-defcon 4 status, while I was happily assuming that we had another 90 seconds to go as my watch and the announcer had just confirmed. BOOM, the cannon goes off. No time to look around and say "is that it?" or "hang on a minute, they just said 2 minutes to go!! What's going on?" No time for any of that because the water around me has literally turned to foam. It's like I'm in the middle of a feeding frenzy on something you'd see on the Discovery Channel and I don't have a steel framed cage to protect me.
I spend the first 20 minutes of the swim defending my personal space which for some reason the other athletes don't seem to be respecting. A couple of minor blows received but no damage done. After that I get into my rhythm and have a moment to take in the fact that I am actually competing in the Ironman World Championships. It's an amazing feeling. I get to the turn around in 33 minutes. OK all things being even this would give me a sub 1h10 swim which is not bad for me for a non wetsuit swim. But all things are not even. Firstly adrenalin and the draft from the field always give me a faster start to the swim, and then of course the current is slightly against us on the way back. I'm peeing rather a lot which also interrupts things because you actually have to slow down or virtually stop swimming before you can pee. I'm also getting some sporadic leg cramping but nothing too serious. However both those issues can be a pain because since the turn I've been trying to stay on someone's feet to keep up with the pace and/or save energy and each bout of peeing or cramps disrupts me enough to lose the pull I had from the front. Eventually I lock on to a good pair of feet and manage to hold there for 15-20 minutes. OK the 1h10 is up and there's still some more swimming to be done. We get into the area of the bay, protected by the pier and see again the amazing colours of the fish swimming below. Then the water gets more and more shallow and finally I'm back to the postage stamp beach. OK 1h14 for the swim. Certainly not great, but you can't really compare times in open water swims as the conditions can vary so much.

T1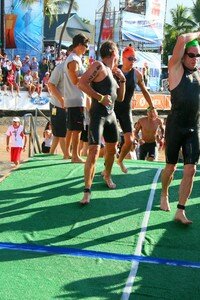 The beach at Kona is about the size of a postage stamp. A very small postage stamp. In fact sometimes it doesn't even exist at all. Fortunately for a less than average swimmer like me, the exit zone was not too crowded by the time I emerged from the water. I climbed the steps to the pier and tried desperately to try and get hold of the zip cord of my speed suit. For some reason I couldn't get hold of it properly so I even stopped for a few seconds until a volunteer helped me out. I know this sounds silly, but my T1 time is a point of pride with me, and maybe the only part of the race that I could beat Ben at, so I didn't want to step over the timing mat until I was sure I could get out of the speedsuit. Anyway, that done I scooted through the showers. The volunteers were all over the place making sure they got you into the right channel to get your bag, even accompanying you to the exact location. It seemed all the time that there were two volunteers for every athlete on the course. What a great job these folks do. I got my bag and was about the only person not to go into the changing tent as all I had to do was dump my goggles (yes both sets), swim cap and speedsuit into the bag and get my helmet and race belt out. I was one of the few who put their helmet in their changing bag, most athletes put their helmets on their bikes. I don't know why, because it is dead time as you are standing by your bike trying to put your helmet on when you could be doing that while running to your bike. The race video shows Chris McCormack struggling with his helmet straps and even Normann overshooting his bike and then once recovered having to take his drinking straw out of his helmet and feed that into his aero bottle. All wasted time!. Hmm, they still beat me by a few seconds, but they will know now that world champions or not, they better not rest on their laurels next time. Anyway 2m24 for T1, 41seconds faster than Ben so I'm already eating into that 7 minute lead he built up over me during the swim. That puts me lifetime 3-0 in Ironman T1s against Ben. If they would just eliminate all the other parts of the race, I'd be World Champion by now.

Bike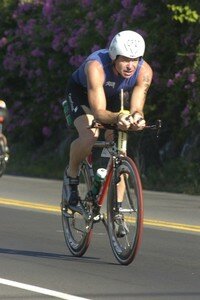 The crowd at the start of the bike are like nothing I've ever seen. The atmosphere is great as befits the World Championship race. So the first few minutes of the bike are spent absorbing the cheering from the spectators before I can get down to the business of getting myself properly oriented. Everything about the bike and the body needs to be checked, the latter being the most difficult as you can't rely on the signals the body is sending you after 1 hours swimming. The bike seems fine, the tires are still inflated, the gears and the brakes all seem fine. I've managed not to drop anything important although I haven't realized that I have no spare tube in case of a puncture. The next thing is checking the body. The heart rate is fine, the legs feel good and I'm trying to get a good cadence going. The head seems clear and now the important thing is to get a bit of drink inside the body fairly quickly. All this needs to be done with a fair bit of care as I'm not the only one who has just got on the bike after a long swim. Some riders are not going too feel so good at the start and more importantly there will be a lot of position changing at the start due to the disparity between the swim and bike levels of each athlete. I check the watch to see how the average speed is doing over the first Km or so and rather unsurprisingly I realize that the Polar needs to be reset to start calculating the bike data. My garmin manages the multi sport transitions perfectly, but doesn't have a battery life long enough for an Ironman race, at least not the kind of time that I take. So I reset the polar and the reading comes back that I'm going at an average of 39Km/h….. uphill! This is what I mean about not being able to judge your effort from what your body is telling you. I'm not feeling anything at all and I'm going at a ridiculously fast pace. Obviously the watch is not calibrated properly. After a while I realize that the watch is correct, and that the adrenalin must be getting to me. We come down Palani and start the short loop. I get a time check from the support group and I'm 6 minutes down on Ben. I caught him in about 60Km at Louisville from 10 minutes down at T1, but he was on a training ride that day. Today I think will be different. Somewhere in the next few minutes I must have got passed by Laurent Jalabert who would have been a few minutes behind me out of T1. However things are rather busy still and whilst I do have a recollection of getting passed by one or two very fast riders, I couldn't for sure say which one was him. So no chance of savouring the moment. [Ben lasted about 70Km until Jaja went by him, and even had the audacity to accelerate back past him which in turn prompted Jaja to put the afterburners on for a brief moment and disappear towards the horizon.]
We arrive back into town, up through the cheering throng lining Palani drive and then the ride really begins. It is 20 minutes since I reset the watch and I've covered 11.6Km, so about 35Km/h. I grab some Gatorade and water at the next feedstation. Why did I get the Gatorade? I have no idea. I have all the calories I need in my Infinit solution, so why am I deviating from the plan. It's the hoarding mentality of the triathlete. See calories, eat calories just in case. Anyway most of the Gatorade is split over my cockpit leaving the bars and elbow pads nice and sticky. Someday I will learn to do and Ironman and stick to the plan!
The next 40 minutes is a slight elevation gain of 80 metres and despite this I have kept an average of 35Km/h. This is encouraging yet worrying at the same time. My best Ironman average is about 32Km/h over the 180Km so maybe I've got a little help from the wind, if not I'm probably going to pay hard for this effort later in the race. The next hour is on gently rolling terrain and after 2 hours I'm at 33.7Kmh. The average is coming down to something more reasonable, I'm just hoping that I didn't use too much effort over the first hour. At all the IM's that I've done since #3 onwards my bike leg has been much stronger than my swim. As a result I've got into the habit, now expectation that I will be overtaking a considerable portion of the field in front of me during the bike leg. This seems a little tougher here. OK it's the world Championships but I still have the same disparity between my bike and swim. Perhaps the fact that this seems harder here is making me push harder on the bike too soon! My legs are feeling a little tight which is a new sensation for me this early in the race, but I'm too caught up in how fast I'm going and I start dreaming about a completely unrealistic 5 hour bike leg which is what my computer tells me I'm on track for. [Looking back there are a few warning signs and signals to learn from].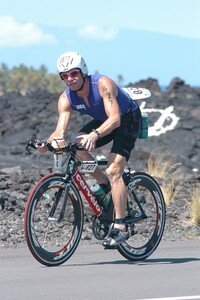 Most IM bike legs are in a loop and this, my 7th IM, will be the first where I can actually see the lead riders. [Well not actually true, Bjorn Anderson did lap me on the 3 lap circuit in South Africa [what an awesome sight that was]. I'm turning over calculations in my head and preparing myself for the moment when I see Normann Stadler streaking past me in the opposite direction lead by the helicopter and a accompanied by cortege of press and support cars and motorbikes. Eventually I hear the helicopter and then I see the activity ahead. An Orbea streaks passed me!!!!!!!!! Wow, who was that? I'm not all that great on knowing which pros ride which bikes. Orbea…. JonnyO?? Well he said he was going to go balls out and he is a good enough swimmer to be in touch with the leaders. That would be awesome if it was him, he's such a cool guy and keeps us all amused on our slowtwitch forum. Actually it turned out to be Chris Lieto, JonnyO was suffering from the same stomach virus that was affecting a number of the athletes. A perplexing dichotomy that in getting your body as physically fit as your can, it seems to expose so many athletes to all manner of illnesses.
Immediately afterwards I get overtaken by a familiar face. It's Neil Kirk. We first met climbing the Col D'Ecre during Ironman Nice a few month's earlier. At IM Nice they print your first name on your bib instead of your last name which is much friendlier. Anyway I remembered his "Hi Neil, I'm Neil too" as he zoomed past me in France. He just missed the Kona slot in France but had a storming race at IMUK about the time I scraped into Kona via the Louisville rolldown. Waiting for Neil to ride past me was on my list of things to look out for during the race and he did not disappoint. He too had no idea who the lead rider was either. With the mystery still unresolved he rolled off into the distance.
Another rider and then a group (properly spaced of course) goes passed but they were way too quick for me to identify although I'm pretty sure I saw Tim Deboom very well placed [I did]. Not to long after the first female goes past and I'm virtually certain it is Britain's Leanda Cave [it was]. Wow a British girl leading Hawaii outstanding]. I had tipped Leanda to make an impact on the race, certainly a top 10, maybe a top 3, but to see her leading was brilliant. A few minutes later I thought I saw Natascha chasing her [it obviously wasn't].
A camera motorbike goes past and I give it a wave. However the driver sees a much more interesting sight up ahead and goes of to spend an inordinate amount of time capturing a female athlete #167 on tape. If you do the research you'll probably figure out why. There are few bystanders but one of them that I pass is also looking at this female and I hear him say into a two-way radio "That's one of ours".
During the second hour I've been calculating the moment when I will see the lead pros coming back the other way. I think the anticipation of this distracted me a bit. I'm torn between enjoying the experience of the race and actually racing. 2 hours at an average of 34Kmh is still a healthy speed and I'm starting to believe that a sub 10 hour race is on the cards! IT seems far too easy and I'm wondering if the hype about Kona being a tough race just that…hype. Well Madam Pele didn't wait long to punish my overconfidence and lack of humility. The next hour includes the slow climb up to the Hawi turn around. Since we passed the first rider coming back in the opposite direction I've started counting off the riders. I had considered that that my best case scenario was to finish in the top 400. As I continue counting off the riders I realize that I am way, way off that possibility. When I get to 600+ I stop counting.... a bit demoralised it must be said. Suddenly it all seems a lot harder and I can see my average speed dropping. The climb to Hawi seems to be against the wind. Maybe it will be easier on the way back. I finally see Ben coming back the other way so take a time check and see how long till the turn. 13 minutes it was so I am 26 minutes down. Finally the undeniable proof that something is not right. Ben has insisted that I'll probably catch him up on the bike, something I wasn't totally convinced of, but I knew that I probably shouldn't be losing 20 minutes on him over less than 90Km. After 3 hours I've covered 93.4Km. Overall that's not a bad average, but it means that I only covered 27Km in the last hour. That's not so good. My stomach feels a little bad. I've probably put too much Infinite inside me and not enough water. Another problem is my nose is running constantly. A minor, by strange irritation, I guess I must have a good portion of the Pacific Ocean still in my sinuses after the swim. Anyway I begin to teach myself that most impressive of cycling techniques.. the snot rocket which I get to practise about every 30 seconds for the rest of the bike. I get the Special needs bag at the turn around, saying a word of thanks in my head for the Volunteer how had helped be out with the improvised bag earlier that morning, and start the journey back. If the wind is with me and I can get the average speed back up then maybe that 10 hour time is still doable.
First up is the descent from Hawi with some wicked cross winds to negotiate. I'm riding the deep rimmed Zipp 808's. With hindsight I'd probably select a 606 configuration but it's a decision I had to make prior to travelling as I could only fit two wheels into my case without incurring the financial retribution of the airline excess baggage Nazis. My 404s were attached to a Cervelo P2SL about 26 minutes further up the road. Apart from a few interesting gusts there wasn't too much to worry about, but you never knew exactly when the next gust was coming so the next 12 minutes were spent at a heightened level of alertness at an average speed of 46Km/h reaching 60Km/h on a few daring occasions. Despite the luxury of descending for the next hour, the wind seemed to be against me and I didn't improve my overall average speed as I had hoped. 4 hours riding done, 125Km covered and now some rolling terrain ahead with the wind in my face. OK 10 hours is off the table completely, and now I have a serious problem. My feet are hurting like mad. I have relatively new cycling shoes, but I thought I had tested them sufficiently in training. Obviously not. They seems very tight, maybe my feet have swollen in the heat, and for some reason they feel badly aligned. Every down stroke is beginning to hurt and suddenly this is not fun any more. I wonder if I'll be able to run even if I manage to make it back to T2. Maybe I should call it a day now and end the hurt. No. I've got a perfect record in 6 IMs and I really don't want to give that up, especially in Hawaii of all places. 5 hours are up and I'm at 149Km. The average speed has dipped below 30Km/h which means a 6hour + ride. I've gone under 6 hours in my last 4 IMs, close to 5h30 in the last 2, so I'm not excited at all about going back over 6 hours again. The last hour I've covered 24Km. I'm in trouble. I pulled up along side a lady whose obviously struggling too. Well, anyone I pass on the bike at this point can't be in too good a shape. "I wouldn't have bothered doing such I good swim if I was going to end up like this" she tells me. Next I pass Andrea from Slovakia who is going a little slower than me. We chat for a short while, really I'm trying to take my mind off the private hell that is happening south of my knees. Then I think of Scott Rigsby…. he'd probably give anything in the world to be able to complain about sore feet. I should think myself lucky and stop feeling sorry for myself. I realize that we'll soon be approaching the energy lab. I'm trying to work out if I'll be able to see the lead runners. And here we come. Again I can't figure out too many of the pros, but I did see Scott Nyedli and I recognized the running style of Marcel Zamora from watching all those IM Nice DVDs (hands very high, if you flipped him 90 degrees forward he would be swimming doggy paddle). I also see Rutger Beke who looks in deep trouble and will not repeat his 4th place of last year. We're coming towards the end of the bike now, we make a few turns and finally there is the chute and T2. I have covered the last 30Km in 1h15 and completed my worst bike leg since IM France 2006. I free my feet, dismount and cross the line into the transition zone. The volunteers take my bike and a volunteer is furiously waving me towards the path around the bike park. I decide to take my time and test the feet a little. They feel a bit sore, but much, much better than they felt a few minutes ago on the bike.
I'm definitely in "enjoy the race experience mood now". I take a fairly leisurely T2 and share a few comments with the volunteers in the changing tent. There's not much more I can do to prolong my stay in T2 and the run course is out there waiting for me. It'stime to get going. The feet are in some nice, comfortable running shoes and actually feel fine now.
The Marathon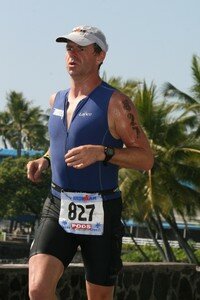 Straight out of T2 I see our friends and I get a chorus of HTFU and they tell me that Ben is about 50 minutes ahead of me. Great, that means he is going well so far! Maybe he can get close to that 10h barrier which he has more than enough potential to achieve but for some reason can't seem to nail on any distance over a Half Iron. My next thought is to ask about the Rubgy semi Final between England and France, but they haven't managed to find out the score yet By my calculations the match will have finished by now. OK I need to find someone with a Union Flag and ask them. As I run up there are Union Flags (btw it should really only be called the Union Jack when it is flown from a boat) all over the place, but they always turn out to be a quarter of the Aussie or New Zealand Flag. There are many more Aussies and Kiwis that there are Brits here, but whilst they are all huge Rugby fans there is no point in asking them as they were all on the plane home a week before having been dumped out of the tournament in quick succession by England and France. I clocked the first mile in 7m46 which is a good start considering the legs were still in bike mode for the first 800 metres. Finally I see a full-bloodied Union Jack and I shout to them about the Rugby. They seem not to know, but as I pass a woman shouts out. "We Won England Won"! At this point, I have to explain to all my Welsh friends that, yes, I am a Welshman and I do fervently support Wales, however I am about the only person in the world who has England as their second team. For the rest of the Rugby supporting World England is either your favourite team, or the team you love to see lose. But not me. Anyway, the news delights me, not least for that fact that I will not have to suffer months of derision upon my return to Paris, in fact quite the opposite, heh heh. I stop turn around and exchange high-fives with the whole of the group there. That cost me about 30 seconds as my next mile was 8m17. On the third mile I needed a pee so rather than adopting the traditional triathlete mode of peeing wherever you happen to be, I decide that I will use the port-a-john which has been conveniently situated just after the aid station I have visited. I passer-by graciously hold my cup of ice-cold water for me while I relieve myself and I continue on. With the pit stop my third mile is 8m44. I finally see Ben running back the other way but the news is not good. He is looking pretty bad and tells me that he can't stop throwing up. I may even catch him, but would much rather beat him with a 10h race, knowing that we were at our best. I don't want to beat him due to a blow up. I wish him well and continue to the turn at the top of Ali Drive. I get passed by a lady in one of the older age groups (yep, this is the World Champs, so get used to that feeling) and re pass her out of pride. For the next mile I'm aware of her footsteps right behind me and I'm desperately trying to keep ahead. Finally she draws level, but it turns out to be a different girl, Jodi Ruby 749. Where are all the guys? Oh yes, they are all about 1 hour in front of me!! So Jody and I run together back to town and we pass the group and this time I pass the news about the rugby back to the crew and, well being French, they were not best pleased. Désolé!! We begin the pay and save hill we see a girl running down escorted by cameras and motorcade. We wrongly assume that this must be the lead girl and Jodi identifies her as Kate Major. She is elated as Kate is based in her home town. We continue up the pay and save hill but there is a sneaky aid station about half way up which tests your resolve to the limit, actually past my limit. I stop to get some drinks and Jodi leaves me for dead.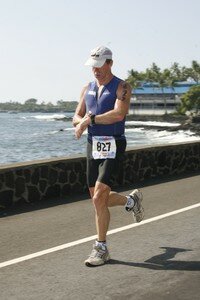 I'm covering the miles in about 8'15 now and head out on the Queen K towards the energy lab. Jodi runs pulls up by my side again, she had apparently stopped for a while but was back in stride and a few a few minutes pulls away again. It's a long way out to the Energy Lab. I see Nicolas Petotot from France coming back and not looking too great but we've passed each other before I'd fully realised it was him. I've been running fairly consistent miles between 8'30 and 9', but after mile 16 the rate has slipped a bit to 9'-10' miles.
Finally we get to the energy lab. They say that this is the most difficult part of the run, but for me it is great. There is music going on and I felt great going in (downhill) and even coming out (uphill). I start chatting to everyone and encouraging all around me. It helps take my mind of my own discomfort and as a result I start to run faster and keep a smile on my face. I'd looked hard for Ben because I had figured that we would cross paths around this point, but to this day we can't work out how we missed each other. At the time though I was concerned that he might have abandoned. I should have known better. Once I'm out of the energy lab and heading back it feels like all the hard work is done and I still think I'm on for a sub 4h marathon. This may not set the world on fire, but it would only be my second sub 4h marathon and would at least validate the previous one in IMKY and give me the confidence next time to go sub 3h30.
I catch up with Andrea (from SVK) again and pass her giving her some words of encouragement. She was walking. A few minutes later she passes me and thanks me. However I got her a few miles further down the road when she was walking again. Then a girl named Angie De Fillippi runs up beside me and we run together for a while. "I think we might escape the glow sticks she says as the sun starts to set." She eventually pulls away from me just as we are getting to town. Finally Palani hill arrives again and I run down it, overtaken by Hans Koeppen in his wheelchair. OK it's no surprise to be overtaken by a guy on wheels going down hill, but remember for every down hill, he had to go uphill and he also had to cover 180K on a hand cycle and also a little 3.8K swim without the use of his legs. And he can still do a 2h38 marathon after that. The hill was just incidental, the guy is awesome.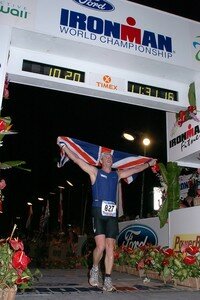 We then have about 2K less and I can feel the strength building up in me and I start to pick up the pace again. We hit Ali drive and I'm now motoring sprinting past a lot of runners. I grab my flag and the last person I sprint by is Angie again and put about 100 metres on her before crossing the line. In 11h31'17". (Ben had recovered and picked up his run and finished in 11h10'17.) Well if all the other IMs finishes were great then how on earth do you describe finishing at Kona. Quite simply if you don't know then you have to do it yourself to find out. The time isn't important, it was respectable at best, but now I want to come back and do better. Next time I will not tempt the wrath of Madam Pele with my overconfidence.
Finishline
I don't' want to sit down, want to keep moving so my legs don't' seize up. I get the Lei and the medal and I am escorted to the assembly area at the finish. First person I see is Scott Neyedli and his father. After checking his result he bursts out with the great news that Christine Wellington won the women's race. Christine Who? Nah just kidding, I knew she won in Korea although it seemed that this had gone entirely unnoticed and unremarked in the rest of the triathlon world. A British winner, England won in football and beat the French in Rugby on the day that I finished my first Kona!
I never actually saw the Julie Moss crawl to the finish line back when it happened. In fact I never saw that until a few years ago when I started triathlon in 2005. What inspired me all those years ago was the rivalry between Dave Scott and Mark Allen. It was grueling for both and usually heartbreaking for one or the other. I wondered what on earth you would have to go through to complete that race. I told myself I wold love to find out the answer to that question, but inside of me I suspected it was a something that I would never do. And now, all these years later, I've actually retraced their footsteps (albeit rather slower) and completed IronMan Hawaii. Now how to you beat that?
26 août 2007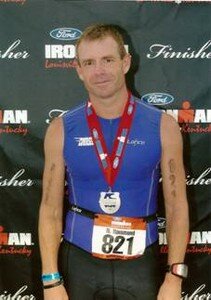 So a quick recap of the story so far. Having taken a year off work with the express goal of qualifying for Kona I find myself with two strikes against so far and a very difficult race looming. I've now completed five Ironman races in my short triathlon career and I've managed to show across the board improvement in each race except South Africa. I've learned so much along the way, but perhaps the most significant thing I learned is that I was stretching my goals too far to make it to Hawaii this time round. So really I'm planning to enjoy IM Louisville, do the best I can and set some more PBs along the way. My biggest aim is to complete a respectable run, and by that I mean a sub 4 hour marathon.
Before we get into the actually race day, the build up to the race has to be addressed. This is an inaugural event which normally scares off a lot of people. It is set in a hot and humid environment under usual circumstances. However the weeks preceding the race were characterized by an exceptional heat wave but with potential thunderstorms hitting the area around the days of the race. The swim is in a supposedly polluted river with strong currents and the heat wave will likely prohibit the use of wet suits (not good for the poor swimmers like me). The bike course will be hot and so rolling that 1) everyone will be changing gears constantly and 2) despite that the top to bottom elevation change on the course is perhaps less than 150 meters, the total elevation climbed will be something around Nice proportions. "Expect to add around 45 minutes to your bike split" was one comment on Slowtwitch. Well at least the run course is flat-ish, but don't worry it will be hot. Slowtwitch community predicts up to a 25% DNF rate on this race based on the weather forecasts and the anticipated number of first timers competing. A final problem was the anticipated Kona slots for my AG. The AG distribution is different in the US with a higher percentage of females and older athletes competing. Thus the 8 slots out of the 45 total that we got in Nice were reduced to 5 out of 45 for Louisville. All this combined with the previous 2 strikes at Port Elizabeth and Nice helped revise my Kona expectations downwards. I'll give it a good, honest shot. I'm on my 3rd and last strike for this year and I'd rather be struck out swinging than struck out looking. If ya know what I mean.
Then from T-24 hours the news just got better and better.
The course organizers had changed the swim course so there was to be less swimming against the current.

My mail ordered pointzerothree speed suit from blue seventy had arrived and I tried it out on Saturday morning. I could feel the extra buoyancy upon entering the water. This will certainly help on the race and not everyone will have one! Everyone would have had a wetsuit if they had been allowed. Advantage Neil.
A drive around the bike course with an altimeter showed an easier course than expected with only 1400 meters of climbing versus the 2500 I had been expecting.
My Louis Garneau Rocket helmet arrived along with a set of Zipp 808s. These should help a bit too. Damn, it would have been cheaper to have purchased a Kona slot on E-bay.
The T-storm hit Louisville on Saturday afternoon for about 30 minutes. It seemed to rid the place of the humidity and the forecast was for much, much cooler weather on race day.
Equipment

Well if I don't qualify then it certainly won't be through any lack of top of the range equipment. Let's summarise the weaponry we have available.
Swim: BlueSeventy pointzerothree speedsuit,
Bike: Cervelo PC3 frame, Shimano DA groupo, FSA bars and shifters, Zipp 808s, Michelin Pro Race 2 tyres, Profile Aerobottle, Zipp Carbon bottle holders, Polar Bike computer and a LG Rocket on my head.
Run: Ascics Gel Nimbus running shoes. Garmin Forerunner
General Race: Lance Tri-suit, InfinIT energy drink, and most of all my HTFU wristband
Also I'm bringing to the race the following 2007 training numbers
8,000 Km Bike
1,400 Km Run
230Km Swim
I know what you're thinking….. the swimming looks a little light doesn't it? Or maybe you're thinking that the athlete is not up to the same standard as the equipment. You'd be right in both cases. Not gonna argue with you.
Pre race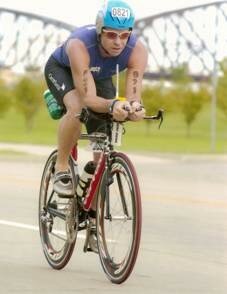 OK so you know the routine by now. Light training in the week prior to the race with a complete rest day on Friday. Saturday we do a swim session in the morning and about 50K on the bike in the afternoon. Interesting swim session. We take off from where the original start would have been. We swim about 4-500 meters against the current which takes about 24 minutes. We hit the turn and swim back and this takes all of 4 minutes to swim the same distance which included overshooting the swim exit! Obviously a great call by the organizers to modify the swim. We check in the bikes and transition bags then eat light and early on Saturday evening and get to sleep.
Awake at 3:45 am well before the alarm. This always happens. I get up, and put a good amount of calories inside me and do my morning yoga. 10 Sun Salutations. I check on Ben and Melanie and of course they are both ready so we head off to the start. After getting the body marking and loading up the bikes we then follow the crowd over to the swim start which is about 1 Km away. The line has already formed for the time trial start. As expected the "self-seeding" plan was really "first come, first served". We get in line and it looks like we are quite a way back. We get to see the pros start, which is a first for me, and then 10 minutes later the Age groupers start entering the water one by one. The line of athletes winds back and forth up the river bank so we have a great view of the proceedings. They are getting the athletes into the water at a very quick rate. At this point I feel the urge for a final toilet break and after discussions with Ben we feel that it is better to lose our place in the line and get this taken care of now rather than later. I emerge a few hundred grams lighter from the porta johns and we sidle back into the line, hmm not quite and the end. As the line works its way forward and we approach the start the volunteers are all there prepping us for the entry. The last one even reminds us to start our watches as we enter. Finally we are here. I guess I wasn't thinking clearly enough to take a check on the elapsed time on the race clock, actually it turned out to be about 25 minutes after the pros started.
Final "good lucks" pass between Ben and me and we cross the timing mat and jump into the water. Now the plan was for me to try to hang on behind Ben up to the turn as we are swimming against the current. However there are a few problems with this plan. Firstly Ben is a far, far better swimmer than I am and is easily going to drop me whether I'm on his feet or not. Ben also weighs about 62 Kilos so does not create much of a draft anyway. Also having started this far back in the line, Ben is going to be zigzagging between all the swimmers as he passes them and I'm never going to be able to keep track of where he is. Also I never feel comfortable for the first 10 minutes of the swim so I'm not at my best then anyway. Finally, well, even if this is not illegal per se, in the swim section, this is an individual event and I'd much rather take my chances with what I've got. I think it's OK to draft of swimmers you pick up at random during the swim, but I think that a pre-arranged draft is pushing the ethical limits of the competition too far. So as expected, I lose Ben in about the first 50 meters and feel much happier about that. Then I realize that again, for about the 4th time in 6 IMs I have forgotten to start the watch. So I start it and figure about a 3 minute delay.
I get over to the left hand side of the swim course near the island. This is what everyone has been doing and probably for a good reason. I negotiate my way round a few swimmers, and notably some athletes that are already breast-stroking after less than 500m swim. This is the easiest sighting I've ever had to do since the river bank is constantly in view on both sides as I breathe. After about 1Km we get out of the sheltered area and out into the main river where the current is a little stronger. It seems to take a long time to cover the 3-400 meters or so to the turn around which I finally reach in 30 minutes. Then I try to sight the end of the course, move out as far to the right as possible into the middle of the river where the current is strongest and head home. We've got a few bridges to pass which serve a good reference points. I'm pretty much out on my own here and hard to say whether my tactic has paid off or not. I can feel the speed suit rubbing my neck on one side and this is where I had tucked the zip cord inside my suit. I switch to breathing on even sides to avoid the rubbing. Another small note for future reference, leave the cord outside.
I make the swim exit in 1h10. That means 30 minutes for the first 1300 meters and then 40 minutes for the last 2500 meters to give you some idea of the current!
Swim Time 1h10m01s
Overall 409th
Age Group 73rd
Transition 1
A few of the athletes in front are obviously just not trying of super T1 times. Already the guy in front of my climbing up the steps out of the water seems more concerned with having a conversation with the volunteer helping him out. I get past him and start running towards the bike pausing to get out of the speed suit which is much easier to do than a full wetsuit. I find my Bike Bag instantly and have unloaded the swim stuff into it and recovered the helmet and race belt before I've reached the changing tent. I sprint through the tent, passing all those sitting down having a rest, drop of the bag and head out to the bike park. Locating the bike is no problem but I lost a few seconds recovering my glasses from the tope tube. Maybe I'll put the in the transition back in future. Then as we head out of the bike park there is a long passage before the official bike start and again there are plenty of athletes who seem to be in no particular hurry. As courteously as possible I negotiate my way passed them and get to the starting line.
T1 Time 3m27s
Overall 34th
Age Group 2nd
Race Time 1h13m26sOverall 302nd (-107 places)
Age Group 50th (-23 places)
Bike

One of the golden rules of triathlon, and particularly Ironman racing, is that you never, ever, ever, under any circumstances, try any new piece of equipment, nutrition, tactic, strategy etc that you have not tested in training. So as I mount my bike for the first time ever wearing an aero helmet I am mightily relieved that there is no thunderbolt emerging from the sky sent by the gods of Kona. Everything appears normal as I head out. There are no flat tyres, no worrying knocking sounds and all the bottles of InfinIT are intact and in position. Great.
So we head off for 180Km of riding. I get a good amount of drink inside me to make up for what I have spent during the swim. At this point I'm not pushing the bike at all and the first 15Km is very comfortable. I'm keeping the cadence in the high 80s and the heart rate drops from 140bpm after the swim and transition to a more normal 130bpm. The road surface is excellent and everything looks good. So my main plan here is to give set myself up for the run. I could probably go around 5h15 but I'd probably trash my legs in the process. I've significantly upped my run training but I still need to rely on being in good shape to execute. So although I'm running at around 31Kmh average, rather low, I feel that this is comfortable and where I should be. Kona is calling in the distance, but I can't go chasing after it like a madman. Patience.
After 15K we begin to climb so I'm glad already that I've got some of the bottles emptied to reduce the weight on the bike. The temperature is still quite low so I'm not sweating too much at this point. We climb at 5% for 1Km and then it settles down for another 15Km although the rolling terrain has begun. I hit the turn for the out and back section where the biggest climbs of the course are hidden. I like out and back sections normally because it gives you an idea of where you are in the field. However with the staggered start today's race is pretty much an individual time trial. In fact, just as it should be. The staggered start has spread out the field sufficiently so that there is no drafting in evidence at all. I hit the descent on the out and back section during which we have to be careful as there are the riders coming back the other way up hill. Not only that but as I approach one rider on the down hill I quickly realize that he is relieving himself on the bike and I have to swerve rather sharply to avoid the stream emanating from the region of his bike saddle. That's the first time I've ever encountered that. Let's call that one a near miss. Then we in turn start to climb up while the on coming riders are descending and there I see Ben. Then of course we hit the turn around 3 minutes after seeing Ben (so he is 6 minutes in front of me) and then do the reverse portion of the out and back. At the bottom of the hill at about 60 Kmh around I hit a seam on the bridge and the yellow "plug" on my aero bottle goes flying as well as one of my bottles. Fortunately it fell out of harm's way behind me. I make an immediate decision not to go back for anything.
6 minutes behind Ben was a bit less than I expected. In fact I was 10 minutes behind at the end of the swim so I was gaining on the bike although I wasn't to know that at the time. What I also didn't know was that Ben's steering was blocked on his P2SL. Initially he thought that the rain had done something to it, but it turns out that in putting his bike together after the last leg of out journey a washer had fallen out and he had put it back in the wrong way round. I don't know how he managed to ride a bike that couldn't be steered, but he did, even having to dismount at the turn around.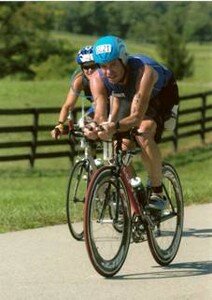 After the out-and-back we head towards the two main 50Km loops. The roads are good, the terrain is rolling, but very manageable, the temperature is still nice a cool (relatively). I notice that there are a few guys about the same overall level as me and we keep passing and re passing each other all the time due to the rolling terrain. I seem to be the strongest on the short climbs and they eventually catch me up and pass me just before the next climb. In addition to the staggered start, the rolling course prevents drafting just as effectively by continually moving the cyclists from their strong to weak areas and back again. The combination of the two effects is perfect. Suddenly I see Ben ahead. I'm surprised to have caught him at all, let alone so quickly. Notwithstanding his steering issues, he's only out for a training ride anyway as he already has his slot for Kona in the bag and will probably not run the marathon. I pass him quickly and we exchange a few words of encouragement. At La Grange there is a party going on. Noise, crowds, cheering, cow bells and even a dead raccoon lying on the side of the road in a party hat with a bottle in its paw. I feel like I'm riding in the tour de france as the crowds part to let the cyclists through. After La Grange we head back towards Louisville but there is of course the little matter of doing that loop again. The second loop feels much easier than the first for some reason. In fact my times for the loops were 1h32 for the first and 1h34 for the second which shows a nicely managed race. Having completed the second loop we head back to Louisville with only wind assisted down hill sections to go. This helps bring the average speed up a bit and I'm heading for about a 5h30 bike split. At this point there is a fair bit of traffic on the road. The cops are doing a great job of controlling the intersections but it always pays to be vigilant. Afterwards I found out that there was indeed on serious accident when a car jumped out and T-boned a triathlete who had to be med-evaced to hospital in a very bad condition. Then I hear a huge metallic "ping" and a couple of ricochets emanating from the bike. It seems like something has given out. I check all around and can find anything missing and the bike seems to be fine. I found out later that it was one of my CO2 tubes that had fallen off the rack and had pinged against my precious 808 spokes. I wonder how close that could have been to disaster.A word about nutrition. I'm using InfinIt for the first time and it seems to be working well. I've perhaps overestimated the calories as I've consumed about 3,000 on the bike versus the 2,000 or so needed. However I wanted to build up a bit for the run. Otherwise the only other thing I've put in my body is water. No gels or anything at all. I've taken some additional salt tablets as well although I probably don't need them. As I hit the last feed station I fumble the water bottle that I'd grabbed. A cyclist passes me and, having seen what happened, asks me if I'm alright for fluids. Presumably he was willing to pass me a bottle for the final 15K. I say that I'm OK but I'm very touched but the gesture from this guy. I don't know who you are, but the offer was much appreciated and shows the true spirit of IM racing.
About 5Km from the end of the bike I switch on my Garmin which I plan to use for the run. It has been strapped around the base bar (not the most aerodynamic method) awaiting its call to action. As expected it takes most of the time of the rest of the bike before finally finding the satellites and declaring itself ready to go. I make the final turns towards the bike park, get my feet out of my shoes and start thinking about the run. We pass some runners on the last Km as there is a short 2Km loop at the beginning of the run. I dismount and my feet hit the ground just before the dismount line that's it. The bike is done. Now the moment of truth arrives as I will find out what I have left in those legs.
Split

Time 5h32m19s
Overall 143rd
Age Group 23rd

Race Time 6h45m45s
Overall 146th (-156 places)
Age Group 25th (-25 places)
Transition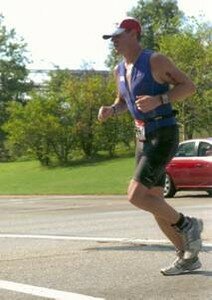 As my legs hit the ground and I start running with the bike get a chance to see how they feel. Not great, but certainly not the searing pain that I had in South Africa. Hopefully it's just a bit of stiffness that I can run off in a few Km. I hand off the bike and start running towards the transition area. Before I get there I realize what I have done, or rather what I haven't done. I forgot entirely to take the Garmin off the bike. Damn!!!! I continue on, grab the Run bag and get to the changing tent. I could certainly do the run without the watch, I still have my polar and I know the course distances will be well marked. But the Garmin average speed data point has become a psychological crutch for me and I know I want it. Against all logic I head out of the changing tent and instead of turning left towards the run course I head back towards the bike park. I notice immediately that the bikes are being racked in their original positions, i.e. by number. This means I should be able to find it where I picked it up after the swim. However it isn't there. I scan the area, but trying to pick out my red Cervelo out of a sea of Red Cervelos isn't going to be easy. Damn its popularity! I then notice that there is a staging area and the volunteers are working in an efficient tag team set up. One group is picking up the bikes from the athletes and putting them on the staging rack and another group is putting them back out in the park. I head to the staging rack and look again, but it isn't there either. I'm now burning time and at some point I have to cut my losses and just go. I talk to a volunteer and explain my situation, we run back over to my rack number and hey presto! There is my bike. I take the Garmin unit off and start running, then I head back to the bike again and put my polar watch back on the bike. I run back towards the tents and, well, since we've burned so much time anyway, why not burn more and have a comfortable pee in the porta john. That done, well, might as well get some sun screen from the volunteers as the temperature has picked up a bit. Finally I head out towards the run course. This was not a transition to be proud of!! What is amazing is that it was still quicker that over half the finishers and only lost me 1 place in my age group. I really do wonder what some people do to pass the time in transition.
Split

Time 9m20
Overall 616th
Age Group 95th
Race Time 6h55m05s
Overall 164th (+18 places)
Age Group 26th (+1 places)
Run.

Well maybe that disastrous T2 was a blessing in disguise. It's perhaps not a well know fact that when Luke van Lierde set the course record at Kona (that still stands today) he served a 3 minute penalty between the bike and the run. I remember also that both Herve Faure and Marcel Zamora both served 3 minute penalties at the same point in Nice 2005 and yet both reeled in Gilles Reboul on the run to grab 1st and 2nd places. There is a school of thought that says this rest will pay dividends in the long run. And talking of long runs, that's exactly what lies ahead.So I head out and on the first loop I'm well into my stride and I get the speed up to 12Kmh. My legs feel much better but my stomach is in a turmoil. I feel I need to belch for about 30 seconds to calm it down but I can't really do that and run. Another alternative is to empty my stomach completely, but I'm not quite at that point. The sun is out now and we get a very brief respite running under an overhead road as we complete the first 2Km loop. I still can't get my stomach under control. I probably had too much infinIT on the bike. I guess I just didn't trust the all-liquid nutrition plan enough and perhaps overdid it a bit to be sure. But you have to get the nutrition spot on. Too much can be as bad as not enough. I have to do something so I make a decision to hit the coke early as I can't tolerate the idea of energy drink. Within a few Km the Coke has completely settled down my stomach and everything is looking great. The legs are feel as good as I could expect, we are getting some periods of cloud cover and there is even some shade along the side of the road. Perhaps the biggest advantage of starting towards the end of the pack is that I'm not getting the super age group runners burning past me. In fact nobody is passing me. In fact I am passing the other runners. Now it's a case of holding on. Mentally I need to keep things under control for the first half or 25Km of the marathon and then apply my HTFU processes if needed to carry me through the last part of the race. I'm not out on the big loop which we will do twice. 10K out and 10K back. It's pretty flat, and we get out of the down town area very quickly and into more residential areas where the locals are partying in their yards, some are blasting out the music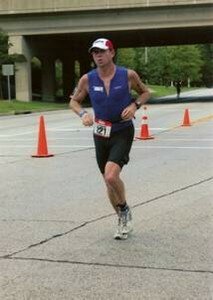 and we are getting lots of encouragement along the way. The feed stations are every mile, almost too frequent. Taking on enough water and coke is a top priority so I walk the feed stations to ensure that this is done. I get into a routine that I maintain for the whole race. Firstly a hatful of ice goes in the cap which gets placed on my head. Then I drink the coke and water and grab sponges and water to throw over my body. Once I've started running and the ice is freezing my head, I transfer the ice to the inside of my tri-suit. It slides down and nestles, well, in the crotch area. This is the best zone for cooling down the body as some major blood vessel pass there. My average speed has dropped to 11.9Km/h and I hit the turn at the end. 12Km done and feeling OK. I head back and the average slips down to 11.8Km.h but OK. I get my personal bag which has a bottle of infinIT in it, but I feel like the coke/water strategy will carry me through so I toss the bag and unused contents immediately.
Towards the end of the first loop a cyclist pulls up beside me bearing the marker "1st Female". I take a look back and there is Heather Gollnick about 30 metres behind, taking her time at an aid station. I chat with the cyclist for a while and after 1Km or so he pulls away as Heather draws nearer. She's got about a 20 minute lead over the next female so she's in no hurry and she's getting a lot of love from the spectators. She passes me over the next Km and speeds up as we enter the down town area. She's ready to finish and the crowd are whooping it up for her. I however have another lap to do. Nevertheless the trip back through down town puts an extra spring in my step and my average is a healthy 11.7Kmh. So I head out for the final loop. Now the legs are getting a little heavy and I'm taking a little longer at the aid stations. I'm running well between them, but losing a lot of time at the stations. The average speed is dropping and I try with some success to throw in some quicker Kilometers as per my HTFU plan. The basic part of the HTFU plan was to speed up when I'm feeling bad instead of stopping and walking. It seems to work. I finally hit
the end of the loop again and we only have 10K to go. I can feel it now. I'm going to break 4 hours, maybe 3h50. I do some calculations as I try to figure out my overall race time. This is the first IM where I've not known my overall race time as I'm competing. But what with not starting the watch at the start of the swim, stopping and restarting for the bike (thus missing the T1 time) and then changing watches for the run it is taking a fair amount of mental gymnastics to estimate my time. I guess that I might be on for around 10h45 if I keep up the current pace. This is very likely not good enough for Kona, but there will be some huge positives to draw from this. Going under 11 hours will be great, something I should have done in my last 2 IMs, and finally putting a good run together will be a huge confidence builder. Slowly the last Kilometers are eaten up, I'm stil losing a little bit of time on each one, with the average speed down to about 11.0, but I'm not losing enough to jeopardize these goals. I speed up as I hit town because that average speed WILL NOT go under 11.0. NO WAY!!! The next corner there is a child holding a poster that says "smile". So I smile and they all cheer. Wow, it feels so much better when you smile! The noise from the finish area is huge and this time it's all good as I can take the left chute and head to the finish line. I grab my Union Jack from Melanie and sprint over the line. The race clock reads 11h10 so I'm sure my personal time is under 11 hours, maybe 10h50. I'll take that, even if Kona has to wait for another year.


Run Split

Time 3h51m16
Overall 96th
Age Group 16th

Race Time 10h46m21s
Overall 103th (+61 places)
Age Group 16th (+10 places)

Post Race.
Well with no internet at the hotel, I didn't find out my time or race position until the next day. 10 Hours 46 minutes and 21 seconds was the time. Awesome, and also I was very surprised to see that I made the 103rd overall and 16th in my age group. A huge positive was that my best placing was the run and, for once, I actually gained places on the run instead of losing. I need to take sometime and figure out exactly what contributed to this. My current thinking is that it is a combination of the following, in order of priority.
Higher volume run training/preparation
Better overall race management by holding back on the bike
Better Nutrition plan
Yoga
Long T2
Not being subjected to the pressure of being passed by other runners
HTFU
Other good news is that based on the starting distribution, there were now six Kona slots in our category. Well it might be worth going to the roll down after all.
At the roll down the first piece of news regarding our category was good. Only 2 out of the first 6 finishers took their slots, so there were 4 to roll down. However the 7th and 8th both took their slots so my brief moment of hope seemed in vain. Then 9, 10 and 11 were not present so suddenly we're back in business again. I'm standing by the results list so I can see the names as they are being read out. 12th, Lenny Wishart Jr is called out and he takes his slot. Now there is only one left. 13th Karl Zueger and then 14th Todd Briggs are not present either. OH…. MY… GOD!. This is potentially disastrous! The next guy on the list is Rick Crump and he finished less than 2 minutes in front of me. WHAT ON EARTH WAS I DOING IN T2? WHY DID I NEED THAT WATCH SO BADLY? IT COST ME 5 MINUTES! This is going to haunt me for a long time. Rick Crump's name is read out and there is silence. And more silence. And with each moment of silence it dawns on me what is going to happen next. I see Steve MacFessels lips read out my name. "NEIL HAMMOND". "YES" I reply and he sends me towards the Kona office. I cover my face and tears well up in my eyes and through the tears I can see cool, clear Kona waters with me swimming on the surface above shoals of tropical fish at the start of the FORD IRONMAN WORLD CHAMPIONSHIPS. I turn around and there is Ben, my friend, coach, mentor and certainly the person who I want to see most in the world at this moment. Thank you so much Ben. This was an impossible dream and you've made it come true. With hundreds of dollars in my hand I join the line to sign up for Hawaii.
24 juin 2007
I arrived earlier at the race site than last year which gave me more time to get set up. Still I do manage to waste most of it by fussing over the bike and taping about 2Kg of accessories to it to make up for all the weight that Cervelo have shaved off. My pre race build up has been better with the lessons learned from IMSA and not stuffing my face late the evening before the race. I'd managed to get most of half of my Overstims cake inside me from about 4am onwards. In fact the biggest challenge was getting the thing baked. There wasn't an oven at the hotel so I'd asked at lots of restaurants on Saturday and finally found a friendly manager who agreed to have his cook prepare it for me. Merci Beaucoup.

The entry is back up for Nice this year with 1500 signed up and the race organization continues to improve. The finish area and run turnaround have been remodeled and the crowds were able to provide a much better atmosphere than in the last 2 years. Perhaps Les Nicoises are finally warming to IM.

There are two guys from my club [Meudon Triathlon] here this year. Eric Carlier (668) and Dominique Bertholot (1064), both of who are doing their first IMs. In fact Eric did his first triathlon in May this year. There are also Jean-Francoise 'Jeff' Leleu-Eponville (351) and Cyril Milinkovitch 'MrTri' (141) who are former members of the club. Also there is Thierry Foulounoux (1311) and Mehamed Boucherit (394) who I see regularly training in the Paris area and finally Jean-Claude Dudouet and Christine Suligoj who I first met doing IM Nice in 2005. I meet up with Cyril and Jeff before giving a final good luck to Dom and Eric before leaving the bike park and heading towards the swim start.


I put myself in the sub 1h6 group but a few rows back from the front. Suddenly looking out at the course I'm confused. I check with another competitor for the buoy we're supposed to aim for and it is a quite an angle from the shore to the left. This is even stranger since the Pros are to our right and would have further to swim. For a minute I think about getting in one of the corals further to the left but I decide against as we're just a few minutes from the start. We get to the countdown and everyone starts cheering and clapping as usual. 10-9-8-7-6-5-4-3-2-1-GO.

Unlike most beach starts, at Nice the water gets deeps quickly and you can start swimming almost immediately which I do. There is a obviously a lot going on just in front of me so I keep my head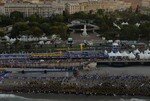 above the water and try to keep out of trouble. But this ends up being one of the most difficult starts I've experienced. I follow along without even looking for the buoy and it's a full 10 minutes before I have really enough space to get my head down and start swimming properly. Then I realize that I'm now way over to the left side of the pack, I've cut too sharp an angle and it's impossible to get back in the middle as there are too many swimmers along side of me. However the pay off is a more peaceful swim. I'm going to be going quite wide round the buoys. After about 15 minutes I'm well into my rhythm and enjoying the swim. I hit the top of the first loop at 15m15. Presuming they've got the distance correct this year this is about as expected for 950 metres. I'm still swimming quite wide round the buoys and even on the way back I'm still on the outside of the field. Next time I'm going to do the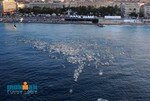 swim course with a GPS and see just how much further I swim than everyone else. I keep going well and make the end of the first loop in 31:44. My goal is 1h05 so I'm looking good for that. The second loop is marked only by a rather benign kick in the face about half way round which dislodges my goggles. They have performed admirably up to this point not letting in a single drop of water. I quickly empty them and carry on. Wow the swim is already over. It really felt like nothing at all and I clock 1:04:49. This is an IM PB by 5 minutes (last year's 1h03 at Nice doesn't count since the course was short).

Split
Time: 1h04m49s/Overall: 378/Age Group: 69

Race Time: 1h04m49s/Overall: 378/Age Group: 69

T1
OK my goal is to make a really fast T1. I start running up the beach getting my arms out of my wetsuit and pause at the bottom of the ramp to get my legs out, being careful to stand out of the way of the others behind me. I've left my cap and goggles on to keep my hands free. Then I run, folding up my wetsuit, through the stands and into the T1 area, grab the bag (having number 1001 is quite useful since my bags are at the front of the racks). I run through the changing tent trying to feed the wetsuit into the bag. I volunteer grabs them for me and says go! I need no second asking. There are only 2 things in my T1 bag. Helmet and race belt, and I was even considering having the race belt on under the wetsuit but decided against. Helmet is now strapped on and the race belt is quickly on as I run into the park. I grab the bike, pull it out into the main channel and start sprinting. I'm going so fast and the bike starts slipping. The back wheel slides away and hits a concrete support sending my tool canister flying out of by seat bottle holder. A kind athlete grabs it and hands it back to me, however the super light carbon bottle holder has snapped. I carry on running to the end of T1 with a quick decision to make. I now have 2 slots on my bike instead of 3. That means either a water bottle or the tools have to go. I put the bike tool canister in the good seat holder and hold the bottle in my hands. Mount the bike and start pedaling. I get going a good speed and down the ¾ litre power bar drink and chuck the bottle. Ok we're going to have to do the course with one bottle holder. Interesting. I carry on and finally get round to getting my feet into my shoes. Well, not entirely as planned, but another lesson learned and this sport certainly challenges our ability to adapt. Anyway, by no means was this the most important equipment failure of the day amongst my immediate friends in the race so I have no cause for complaint.

Awesome job.

Split
Time: 4m05s/Overall: 52nd/Age Group: 1st
Race Time: 1h08m54s/Overall: 264 (-114)/Age Group: 43 (-26)

The Bike.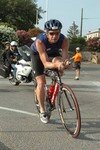 Well apart from the mishap in T1 the bike was awesome. A total pleasure all the way through on absolutely the best IM course on the circuit. I'll be happy to argue that point with anyone. Knowing the course so well helped. I hit all my planned time checks, in fact I was 10 minutes ahead for my schedule for most of the race. I knew I was about 300th coming out of T1 and I gained about 50 places in the first 20K. I had a small mishap after the wall when by glasses came off my helmet and dropped. 1m lost in stopping, dismounting and running back 30 metres to retrieve them. I get passed by a few riders but I get the race position down to about 220 before the start of the big climb at 50Km. I take it really easy start as planned, comforted by the knowledge that I'm 10 minutes ahead of schedule already. I give a few minutes back on the climb and lose about 25 places but I'm not too concerned. I'm ready for the fact that there is still some more climbing to do shortly after the Col de l'ecre so I stock up on food and keep going. Then the first of the descents. I really attack them and pass a lot of riders over the next 25K. Then the climb to Corsegoules where I am totally shocked as I pass MrTri who seems to be struggling a bit. I reach the top and he repasses me a quite a speed. I guess he was shocked too. We're now heading into the out and back part of the course. I move to the big chain ring and the chain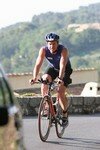 comes off and won't go back on. I have to stop, dismount and do it manually. I hit the turn noting that Mrtri is a good minute or so in front of me, so I hammer on the pedals and start passing people like crazy. I've repassed Mrtri before the end of the out and back and there is just a 2Km climb before the beautiful pay off for all the hard work done. At 120K that's it. We hit the descents and now it's just a case of playing daredevil for the next 50 minutes. Sometimes I like to hang 20 metres behind some guys to get a read on their line into the corners, but eventually I realize that I have to pass them if I want to move up the field. I'm still counting down now and I've got to about 200th place. Unfortunately there are two or three bad spills that I pass, one looked particularly bad. Fortunately each one already had professional medical assistance all over them so nothing to be done by stopping. Is this what it's like riding with the big boys? I guess so. The worst thing is passing a fallen rider and checking off the number in my race count. I feel kinda guilty about benefiting from some else's misfortune.
There is a 1Km climb right in the middle of the descent so I immediately break out a Harvest bar and force it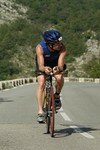 down with a gel and power drink. The single bottle holder hasn't handicapped me too much as on each station I change out the energy drink in bottle cage and keep a water bottle balanced on my aerobars which I try to drink as quickly as possible to avoid having to drop it too far from the litter zone. The last aid station is on a 50Km descent which is ridiculous and I only manage to keep one bottle. Then I hit a hole in the road and there is an unholy noise coming from the bike. I check behind and my 2nd spare inner tube is dangling from the seat with the valve chiming against my Zipp 404. I hastily pull it out of harm's way and toss it to some spectators. I'd have to have 2 flats in the last 25K to have my day ruined so no sweat. On the subject of tyres I love the Michelin Pro Races. I have never felt so comfortable and confident on the turns and this was my first ride with them. Awesome and thanks to all the guys on Slowtwitch who made this a huge consensus pick for an IM race.

We reach the bottom of the descent and just 20K to go. There is a bit of a headwind, but hell I don't' care. I'm flying, the afterburners are on, we're on overdrive, giving it both barrels and not waiting around for anyone. I'm 175Kg on a Cervelo P3C, Zipp 404s, forward geometry with full tri set up so at this point there's not many in the field going to keep up with me now. The small group that was with me (not in a drafting sense) on the down hill falls behind and I see packets of riders ahead. In the last 20K I take about another 20 places and figure that I'm about 170th overall. Actually I was 179 at the time and adjusted 165 amongst finishers only.

Bike time 5:34:00. A personal best on a really tough course and only 40 minutes off the top pros. 11 minutes ahead of my plan and about 3 hours faster than my 2005 time and 1h20 faster than last year. Gotta luv that haven't you?

Split Time: 5h34m22s/Overall: 166th/Age Group: 25th
Race Time: 6h43m16s/Overall: 165th (-99)/Age Group: 24 (-19)

T2
This is fairly uneventful, only surprise was that in the last 2 years they took your bike as soon as you dismounted. However this year you have to run the whole length of the bike park before the hand off. As I approach the guy who is going to take my bike I remember the video clip of Normann throwing the bike in T2 at Kona last year. However I love my P3C too much to throw it!!! Maybe you can do that with Kuotas but not with Cervelos. Anyway this baby has looked after me for 180Km and been awesome. Respect! I hand it off gently, grab my bag, get the socks, shoes and cap on and head out for the torture.

Split Time: 3m16s
Overall: 60th/Age Group: 6th/Race Time: 6h46m32s
Overall: 159th (-6)/Age Group: 22 (-2)

The Run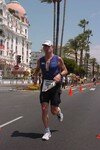 OK it's here that I don't get it. And I really don't. I had a great bike, no pain at all. I've run 18K in 1 hour 20 in training sessions following a 4 hour bike and felt great. But again my legs just feel stiff as I run out. Not only that, I'm running at a good pace, in fact I think I'm doing about 13Kmh for the first Km. At this pace it's a 3hour 20 marathon and dammit I'm not passing anyone. I check the armbands to make sure if they are the elites on their second or third laps but no. There are plenty of guys just starting who are passing me. I pass one guy and he lets out an enormous, fart for about 20 seconds which leaves a vapour trail for at least the next 100 metres. Well that made me speed up for a short while. I keep going but I don't understand what's happening. I was going to shoot for a 3h45 marathon for my 10h30 goal. On this plan I should pass about another 60-70 runners and about 10 in my AG.

I reach the turnaround on the first loop at 25minutes. Great time, I'm still at 3h20 pace but I don't feel good at all and I'm getting passed by other runners. What on earth is going on? I complete the first loop in 53 minutes getting encouragement from MrTri as he passes me running very well. The return has a slight head wind so my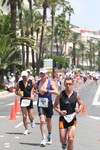 pace is now at 3h30 marathon. That would still be awesome but why am I not moving up the field? Outbound on the second lap I'm about to take a salt tablet and I lose the cap of my container. I stop suddenly to retrieve it and my back jars and is quite painful on the restart. I try to regain my rhythm but I never quite manage it. I hit the turn around in 1h25. This is still great but I know I'm slowing. I break on the way back on the second lap and walk for a short while. Remember Natascha at Kona last year!!!! Don't give up!! I restart and complete the second lap on 2 hours. So 53 minutes for the first lap, 1h07 for the second. No prizes for guessing where this run is going. The legs are hurting really badly and I struggle through a terrible third lap in 1h15. I pull it back together a little for the last lap and give a sub 11hour IM a shot. I thought I'd stepped it up a bit but at the turn I clocked 32 minutes for the half loop, which isn't good enough. Well only 5K to go now so might as well keep the pace going and not let this race get too far away. I'd picked up my Union Flag from my special needs on the last run in and as I approach the last few hundred metres the crowd thickens, and the flag seems to animate them. I run through the shoot cross the line in 11h07. A PB by 35 minutes on a more difficult course. 2 hours faster than the same race last year but unfortunately my expectations were higher… aren't they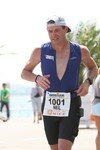 always?

Good swim, awesome bike but again a poor run although I'm embarrassed to say that 4h21 was a PB. Two outta three ain't bad? I'll take a few days to think of what I need to do to address my running problems before the next bite at the cherry which is IM Louisville on August 26th.

Split Time: 4h21m06s/Overall: 620th/Age Group: 129th
Race Time: 11h07m38s/Overall: 300th (+141)/Age Group: 54 (+32)

As for my friends. I'm delighted to say that they all finished. Eric and Dom completed their first IMs in 15h30 and 13h55 respectively. Way to go guys. Eric is totally new to triathlon and Dom was carrying a slight knee problem into the race so I'm delighted he finished.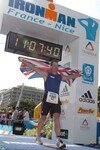 Cyril (MrTri) recorded a great10h27 but unfortunately his Kona dreams, like mine, are on hold for a while. Cyril is capable of better and one day he will achieve his dream.

Jean-Francois 'Jeff' had the most amazing story of the day. At 70Km into the bike his right crank arm started to crack and it completely broke off at 100Km. Fortunately most of the climbing was done, but Jeff nevertheless did 80Km of biking, 25Km of which was down some very dangerous descents on one pedal and not only made it back to T2 but also completed the race in 14h11. Jeff you are a hero for that effort! Awesome

I saw Mehamed on my last lap of the run and he finished with a great 12h54, again improving on his previous year's

Thierry put up a 10h56 and passed me on the run although I don't remember seeing him. He came 5th in his age group (M50) and with 3 slots and only one non-taker, he was the fastest non qualifier in his age group. 3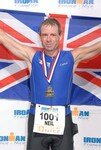 minutes away from Kona.

Jean-Claude and Christine both finished in 11h29 and 15h13. They've both done better on this course. J-C even made the M50 podium in 2005. Great job guys nonetheless.

Elsewhere on an incredible day for our club, we had two of our three starters Michel Bisson and Walter Batel completed IM Zurich. Francois Dubuc and Sylvestre Ducreux both crossed the finish line at Roth. Yes June 24th, 2007 was the day when Meudon Triathlon took on Europe.
18 mars 2007
It is fair to say that 12h40 did not meet my time objective for the race. I'll own up now and say that I was shooting for 10h40. However there is always something to be learned from each race and that knowledge kept me going to the finish line. Also, 6000 miles is a long way to travel home without a finisher's medal. If I had to have a bad race this year then I'm glad it was this one, and I hope that the lessons learned will prevent similar disasters from happening at Nice and Louisville. So let's talk about the race, what when wrong, what went right and what I need to do in preparation in training for the next races.

Preparation
Some niggling injuries had hampered my training early in the year. Fortunately they did not manifest themselves on race day, nor were they aggravated by the race. A bout of knee tendonitis prevented most of the run training in February which hampered a lot of distance work as well as the valuable brick sessions. Two short flirtations with shoulder tendonitis also curtailed the swim training a few days earlier than expected and a sudden and painful lower back problem two weeks before the race meant that the training taper was more of a complete drop off in activity two weeks out from the race. Nevertheless I arrived in Port Elizabeth in good health and as race ready as I could be. I saw Herve Faure, the sole French pro representative at CDG as I left and took the opportunity to exchange a few words with him. Unfortunately he had a problem with his ticket and I believe he had to delay his flight out by one day. Not a catastrophic event for me, but for a pro the final days preparation are planned to the Nth degree so I imagine that he was not best pleased and I was not surprised to find out that he did indeed drop out of the race somewhere during the bike course.

Upon arrival I found my digs at a great guest house and set to work assembling the bike. The next morning I went to the swim training at 8am. Being reasonably fearful of the sea, or more precisely, what may be in the sea, I only did 150meters out and back a few times working on the entry and exit. I am led to believe that the beaches here have shark nets, but I know that these things do not provide 100% guaranteed protection, and unless I've got 1700 other idiots in the water around me to lower the odds even further I am quite happy to stay close to the shore. Then at 10:30 I tried out 1 lap of the bike course. The 10Km long climb seemed like nothing at all. It wouldn't even compare with our "homme mort" back home in Paris. The wind was in my face on the outbound section of the circuit but once I had completed this the wind helped me fly the second part of the course keeping the speed above 40Kmh for most of the time. I returned back to the guest house with 65Km on the clock at an average of 33Kmh. Three loops like that on race day would be fantastic. That afternoon day I visited the Addo elephant park and took a two hour trip round the park. On the way home I stopped off at the Addo Crocodile and Lion park, a much smaller establishment but very interesting nonetheless.

On Friday morning I went to register for the race and visit the Expo ad this turned out to be quite an eventful visit. The first thing I learned was that Powerbar would not be providing the race drinks as advertised since they didn't have enough bottles in the country. So Poweraid had stepped in. I was quite perturbed by this news and rightly so as it turned out. The poweraid mix was much sweeter and harder to digest on the bike and I certainly could have used some training time to adapt to this. I then visited the Cervelo stand to find out if they were selling their bikes any cheaper for the South Africa market. Local produce is so very cheap here for European and US visitors. The primary race sponsors had to give heavy discounts this year to the South African Athletes so that most of then could afford the entry fee. In interesting part to this bargain is that the athletes that accepted the discounts had to wear the Specsavers race gear on race day or take a 6 minute penalty. With this in mind I was wondering how Cervelo would be selling a 4.500 Euro P3C in this market. Rather surprisingly they are selling them in this market at the SAR equivalent of that price and they are indeed selling a lot of them as I would find out later. As I was talking to the Cervelo guy, up walks last year's winner. Gerardus 'Gerrit' Shellens. The Cervelo rep had talked him into taking his own P3C for a ride a few days prior and Gerrit had stopped by to give him the feedback. He loved the bike and actually wanted to race it on Sunday. I couldn't believe that a top pro would change his bike after one ride and only 2 days before a major race. With minor details like tyres, crank length and power meter set up discussed in a mere 30 seconds Gerrit is off and has made his decision to race a P3C. I make a mental note to check the bike park the next day. Whilst Gerrit is a runner rather than a cyclist, it shows amazing confidence in a) his running ability to catch up Tissink from up to 15 minutes down at the start of the run, and b) the greatness of Cervelo's top range bike.Friday evening is the Pasta Party and for yet another evening I try to stuff as much pasta into me as I can take. All the pros are there the most interesting part of the proceedings was Gerardus and Natascha being presented to the crowd. The applause for Gerardus is polite as we remember that he is indeed up against local hero Raynard Tissink and Natasha of course brings the house down as her personality and character at there for all to see in that wonderful smile that you never see her without.

On Saturday I attended the race briefing, returned to the guest house and made my final adjustments to the bike (adding the handlebar tape and putting on a sexy new Zipp bottle holder) before taking a leisurely 1 hour ride followed by a very light 20 minute run in which I calibrated my polar foot pod over a 1Km section I had measured on the bike. Then I headed over to the bike check in. As far as my bike configuration goes, I've gone for the most aggressive approach possible. I only have one bottle holder (many competitors are riding with up to three) figuring that with the aid stations 15Km apart I will easily have enough fluid available. I have Continental Supersonic light racing tyres. As a result I have spent 1 hour practicing tire changes and have a second spare inner tube which you can see stuffed neatly under the saddle. No Bento box is needed, I will have some gels and bars taped to the cross bar which will be transferred to my tri suit pockets within the first kilometer and a hand pump is there in case I can't work the CO2 canisters. Note the minimal amount of tape on the bars and none at all on the base bar. Why add the weight if I'm suppose to be in aero for 99% of the race?

The bike is checked in, the Transition bags are racked and competitor 1049 Neil Hammond is ready. I spend a few minutes visualizing the important T1 transition process and then head off, camera in hand; to see what is interesting in the bike park.

The evening before the race I make probably my biggest mistake. Having retuned from the bike park I let too much time slip away before heading out for an evening meal. I tried a new restaurant and was served a humongous portion of pasta again which I unwisely consumed. I didn't get back before 11pm and realized then that the food I had eaten that day would probably not have the chance to make its way completely through my system before the next morning. Maybe this would be the first IM where I would need to do a serious pit stop.

RACE DAY
I awoke at 4am and ate half of my energy cake along with some powerbar drink. I evacuated what I could from my body but I knew I was "heavy" shall we say. I rested until 5:15 and then checked on the guys in the other rooms to make sure that they were up. I had suggested a buddy system the day before because I don't know of a triathlete yet who has not had nightmares about oversleeping for the race. At 5:45 we set out on the 1Km march to the start and bid each other good luck upon entering the transition area. I have a few alterations to make. I decided to tape my food to my top tube rather than leave it in T1 and also I add sunscreen to my T2 bag and one or two other minor details. At the bike rack I strike up a conversation with Mike Barber (1047), one of the 6 Canadians represented here who is racked next to me. He is an experienced campaigner, with many IMs including Hawaii qualifications on his resume. Now, however, he is into IMs for the destinations. An early season outing for a Canadian is difficult with most of their bike work restricted to home trainers. With tire pressures checked, double checked and then checked again it's time to get on the wetsuits and head over to the start. The swim drop zone is now a huge mountain and we make our way eventually down to the beach. There are already huge crowds with the African dancers livening things up on the beach in front of the starting tape facing the athletes. The start area is very wide and there is no jostling for position among the AGers. The Pros are about 10 meters in front in their own section. A small technical point I'll touch on here. I have now got into the habit of putting the swim goggles under the swim cap and I can not for the life of me work out why the majority don't do the same. This protects my goggles from being swept off by a stray hand, something that happened to a friend of mine at Embrunman. He was very lucky because at the time his arm followed through the swim stroke and happened upon the goggles in the water. It's usually not light when Embrunman starts, so but for this stroke of luck, his whole race would have been ruined. Something else I do slightly different to most is have my tri suit unzipped under my wetsuit. The first time I swam with a tri suit underneath a wet suit I felt very claustrophobic and restricted. The next two races I swam with the upper half of the tri suit rolled around my waist, but I thinking this time I can get away with just happing it unzipped. The last thing I need is to break the zipper on my suit as I feed the arms in T1. This is exactly how I broke my club tri suit just a few weeks previously, fortunately not in a race, so I settle on this compromise. It's also one less step in my T1 process. I check my watch for the ready and wait for the start.

THE SWIM.The race starts at exactly 07h00m00s on my watch and off we go. I'm right at the front of the wave and we charge down the sandy beach and into the surf. At about thigh height I dive into the water and begin my swim stroke. There is really not much bumping at all going on even if there is a 90 degree turn at 300 metres. The time quickly passes and at the congestion builds at the first bouy. In fact it's a complete traffic jam and having been stopped for 10-15 seconds I follow a few of the swimmers who have ducked inside the buoy and head off on the 700m stretch to the 1Km buoy. A few hundred meters later I get that sniff of diesel in the water. Almost as I'm telling myself not to get any in my mouth, I catch a mouthful and immediately start choking it out. I recall STer Julian Allen's experience from 2006 in the same race and also testimony from other triathletes who have imbibed diesel. It's not good and can have permanent effects on your digestive system. I get going again and try to draft as much as I can. I'm successful for a few hundred metres but eventually lose the guy in front. There are no intermediate buoys so its difficult to get a good line on the next marker from a distance. The swell and chop are building up a bit too. I'm breathing on every third stroke on alternate sides and every alternate breath I search the skyline for the buoy. Eventually I see it and mark its place against a taller land mark behind it since the conditions are such that you don't get to see the buoys every time you look for them. Finally I arrive at the 1Km mark. I'm hoping for a 17 minute time here and I'm rather shocked to see that 20 minutes have already passed. Another 90 degree turn which congests the field a lot and there is a 200 meter stretch to the next buoy before we turn 90 degrees again for the journey back. On the way back the sea conditions worsen a little more, we arrive at the 4th buoy and then turn right for the finally 129 meters back to the beach. I come out of the water and get a time check. 42 minutes. I'm stunned. This is going to give me a 1h25 swim which will be my slowest ever by far, And that's even if I can swim the second lap as fast as the first which we never do since we tire and lose the draft as the field thins out. I'm very concerned at this point as I head back into the water for the second lap. This is a new experience for me as all my previous IMs I have swum better than expected. I make the first buoy again and head for the second time on the long 700 meter stretch. I smell diesel at exactly the same place and although I managed not to get any in my mouth this time it still gives me nausea. As I approach the 1Km buoy (2.9Km total) in 1 hour my stomach starts to feel really heavy and I know I'll need a pit stop very soon. I'm also peeing regularly which is unusual and worrying. I make the turn and then the next one and start on the long straight back for the last time. I'm feeling really ill now and the sea chop and swell has gotten even worse. About half way through this part I turn over onto my back and pause for a few seconds, I start up again and then vomit a few times. I continue onwards but I know that I'm not swimming close to the speed I can do, I just want to get this over with now and I'm not sure I even want to get on the bike. I finally reach the last buoy and head for shore, vomiting a few more times even in that short distance. I finally see swimmers standing up next to me, I take a few more strokes in the water and then do the same and start wading out wondering what I'm going to do at this point. Its moments like these that I love. I'd planned and rehearsed the T1 transition so much that two things occur. Firstly I'm determined to see exactly what kind of T1 time I can do and secondly, as I exit the water, the preparation and training completely take over and it's like I'm on autopilot. One of the more positive things I did tell myself during the swim was that the conditions were the same for everyone, and indeed they were. The only six athletes came out the water in less than 1hour. My time ended up being 1h34m093. A 50+minute second lap!!!!! If I would have held on to that positive thought a little more the I wouldn't have lost an additional 10 minutes on the swim out of discouragement. I had the feeling that I was somewhere near the end of the pack when in fact I was #782 out of the 1308 finishers. Middle of the pack, but I think a lack of effort on the second half cost me 300 places. The HRM data shows a good solid effort for the first lap with and average HR of 142bpm and then a continual decline during the second lap with an average of 116bpm. I can hide behind the sickness a little, but I have to own up and say that a large part of the lack of performance for Lap 2 was due to a psychological failure.

T1
My T1 went as smoothly as I had planned it in 2m36 seconds. Faster than Natascha Badmann and another 9 of the 28 pros. In fact I had the 29th fastest T1 time overall and by the time I was on the bike I had passed 210 athletes since exiting the water and I was in 572nd place.

The Bike.
I got onto the bike and surprisingly was feeling much better now that I was out of the water. I get the bars and gels transferred from my top tube to my tri-suit pockets and start to get some drink inside me. I get my feet in my shoes and start my watch, probably missing 1Km of the course already. I know how this is going to go for the next hour, I'm going to be passing hundreds of cyclists in an attempt to get into the top 200 places. The difference between IMSA and my last race where I was in a similar position is that here we don't have oncoming traffic. We are only supposed to use one side of the road but it's fairly generous. Also the swim has really stretched out the field and there is a nice 10Km climb at the beginning of each lap of the 3 lap course. Quickly I find myself at the 3km mark where there is a turn to begin the climb. It's very gentle, about 10Km to climb just less than 200 meters with a slightly steeper section at the start and another at the end. There is no drafting in evidence anywhere and for the most part I can stay in the overtaking lane and just keep going past. Occasionally I have to brake to allow an overtaking maneuver in front of me and very occasionally I have to tuck in right to allow past that rarest of species, a triathelete who is a better cyclist than me (not so rare in itself) but also a poorer swimmer. I tuck down into aero position and keeping a high cadence reach the top of the climb without difficulty. In fact I now enjoy the climbs as my winter work has made me much stronger in this area. The course is a loop with one 6.5Km out and back section from the Km 17 rejoining the loop at Km 30. Now in my original plan, I figured that I would reach Km17 before the lead riders had reached Km 30. Thus I would be able to count all the riders in front of me as we did the out and back and then keep track of my race position. As I reach the start of the out and back I have already realized that the lead riders have already gone passed by some time. Nevertheless I begin counting. As I reach the end of the out and back 6.5Km later I have counted 390 riders in front of me. From this point forward I play a little game to keep my mind from focusing on other things like pain and discomfort. Each time I pass a rider I count down from 391 and each time one passes me I count back up again. This turns out to be hugely motivating. By the time I've completed the first lap I've got the number down to about 320 and there is still a stream of riders in my sights. I reach the climb for the second time and hear a friendly "Hi" from IRON MIKE BARBER who pulls up alongside. "I guess the home trainer did work" he grins as he passes me. He seems to be competing for pure enjoyment and being a heavier rider I realize that the climb we have just started has slowed him down somewhat and he is not pushing on ahead. So I make the most of my climbing skills and press on, passing him and continuing my number game which is closing in to the 300 mark. At the top of the climb I now need to relieve myself so I stop the bike and nip behind a tree. 10 riders pass me including Iron Mike and I jump back on the bike eager to recover the lost ground. In fact it takes me 20 Km to catch up to Iron Mike again and he had taken 10 riders in this time. Still, a reminder in how much time can be lost just stopping for a wee. Now the sun is out and the temperature is slowly rising. Mike was worried about it being cold during our pre race chat and was even thinking of taking a jacket on the bike. I ask "hot enough now" as I pass him for the second time on the bike. I hang with him for a short Km and then push on trying to lower my race count. The second half of the loop takes us down to the coast and back to PE along the shore In my training ride on Thursday the wind was firmly behind at this point and send me flying home between 40-50Kmh. There is definitely wind today but it's mainly crosswinds on the course and difficult to identify anywhere on the course where it really benefited us. This caught me out a bit as my average speed does not get the jump in the race that it did on the training ride. So instead of my target laps of 1h45 I did the first one in 1h50 and I've even slowed down a bit for the second lap which is about 1h55. A strange thing happens a few Km short of completing the second lap. A van pulls up from behind me in the opposite lane with a huge race clock on it. NO! It can't be possible, and then with some quick mental arithmetic I realize that it damn well is possible. I'm being lapped by the lead pro. Sure enough a few seconds later, Bjorn Andersson on his Black P3C with the lowest drop you'll see anyone riding sweeps by. The guy has enormous thighs and is very stockily built for a triathlete and that's the first thing you notice about him. I head some commentary coming through from the van and hear that he has about a 10 minute lead over the field. That's huge, but how fast can he carry those powerful legs over a marathon. Time will tell I presume but it sets up an interesting men's race. I reach the end of the second lap with out seeing the second men's pro (thankfully) and I've got my own race count down to 250 meaning that I've passed 141 riders at this point. Starting on the final lap I'm interested to see how I will handle the climb. In fact I have to get out of aero to climb this time as the back is really starting to hurt. The change in position may help me when I get back into aero for the remainder of the bike section. I know realize as I'm doing my race count that I'm probably lapping a few cyclists myself, definitely, in fact. It's easy to see which ones they are as I come up on them far too quickly for them to have stayed ahead of me for 120Km. I make a point of encouraging each and every one of them as I pass. It was less than 2 years ago that I was in that area and I know how it feels and what kind of day they still have left ahead of them. Also the aid station folks get a loud voice of thanks as I pass each one for the last time. One day I will serve on an IM race station myself to give back some of what these superb volunteers give to the athletes. They seem to be enjoying themselves here to, more than on most courses that I have seen with music and cook outs going on at most of the stations. On the out and back section Iron Mike passes me again and like the previous times does not push on further. I repass him again after we have rejoined the main loop. In the third lap my lower back pains are getting bad and I have to come out of aero more frequently with every turn, change in elevation and excuse to do so. Also I realize that I am definitely going to need my serious pit stop very soon and wonder if I can possibly hang on to T2. About 5K out I realize that the situation has become very urgent and I pull over by the side of the road and dive into the bushes. The stop probably takes about 5 minutes in total and there's no disguising from the other riders passing by as I emerge from the bushes with my tri suit rolled down to the waist rubbing my hand over a patch of grass on the side of the road. I'll leave you to fill in the blanks. I get back on the road, since I've was hidden I've no idea how many riders passed by me. Iron Mike certainly would have been one of the first but I'm guessing about 20-30 others would have also done so. I had gotten my race count down to 191 plus the riders I had missed when I started the count. Actually I finished the bike 40 places and 6 minutes behind Iron Mike. So my best estimate is that both pit stops cost me 8 minutes of bike time and 50 places. Ok I'll eat much earlier the day before the race next time. I get it. I crack on and hammer the last 5k seeing Bella Comerford on the run in second place "Great Job Bella! Fly the flag!" I shout to her and I do get an appreciative nod as she pushes on. I pull up to T2 and clock a 5h52m16s bike split. This beats my previous best IM bike split but a few minutes and I would have certainly been sub 5h45 without those pit stops. I have the 221st overall bike split and 25th best in my AG.

T2
The moment my feet hit the ground on dismounting from the bike the backs of my legs shriek in pain. The course commentator catches this and comments on it over the PA. I give him a wry smile and hand the bike off as I start to run through T2. I grab my bag, go into the tent and get into my socks and running shoes. I waste some seconds getting my speed sensor started and restarting the Polar on the run settings. Then I head for the run start. T2 is not quite as impressive as T1. 3m47s and the 134th best T2 overall.

The RUN
Well the exit from T2 was about as good as it got for me on the day. Following a disastrous swim I had worked my way up to 265th place overall and 40th in my AG. The beginning of the run was marked by some serious discomfort. Firstly it feels like all my insides between my waist and my neck are sore with bruising. I suspect I have some stomach cramps and hope that eventually they will go away which they do after about 5K. More serious however are the extremely tight hamstrings which are severely restricting my running. I run through the list of potential causes. Dehydration, tiredness, sunburn, tight tri suit legs but I strongly suspect that the main problem is the result of an imperfect bike fit. I know what I can do to prevent the problem in the future but there's really not much I can do about this now. Almost immediately I start the run Raynard Tissink runs by in first place as he starts his third lap. He looks in reasonable shape. We run 2Km to the Avis turnaround and there is a course commentator at that point absolutely delighted to have seen Tissink run by in the lead. He mentions that Shellens is about 500 meters back and looks happy to hold on for second place. Sure enough Gerrit then runs past me, but in no way does he look like he's running to hold on for second place. This guy is an unbelievable runner and he looks to be going at an incredible rate. 500 meters and 12Km to make it up in seems for all the world like the easiest thing for him to do and the commentators head games are not having any effect on the Belgian. My initial run speed is up around 11Kmh and for a short while I wonder if I would hold on for a 4 hour marathon. But I know the feeling, I know Ironman marathons and I know that you don't get faster as the race goes on. It's just the opposite isn't it. I try my best but slowly, ever so slowly, that average speed on my watch keeps nudging downwards. I see Bella run past me and to my surprise Edith Niederfriniger shortly afterwards. I fear that Bella will not hold on to second place. I run back along marine drive and I am still running up the short climb up admiralty. As it flattens out, guess who comes up beside me. Yes its my old friend Iron Mike again. Actually I had exited the transition 10 seconds behind him and gone past him in the first 100 meters of the run without realizing. But as I inevitably slowed down, IronMike draws along side me for the umpteenth time today. I run with him for about 400 meters and we chat about the race to date. Buddying up with him would be a smart move for me at this point as I'm sure he's headed for a 4 hour run, but I realize that I won't be to make it so I let him go on and this time I know I won't be catching him up again. I actually keep him in sight for the next 7K, 16 K into the race, but it is at that point that I break. My legs are pure agony at this point and I know that I will not even beat my IM best time (11h42 in IMUK). But I'm not going home without a medal even if I have to walk the rest of the course. I turn around at AVIS again and head back past the transition zone with some severe stomach issues. I ask a referee if I can go into transition to use the portaloos and get told that my best be is to use the ones that are located behind the aid stations. I make it to the next aid station and make another serious pit stop. Before running again I try to stretch out those hamstrings but its' not really going to have the desired effect. I carry on along marine drive getting close to the halfway point. As we turn up admiralty and out past the university I meet up with Jean-Pierre Kruger. Jean-Pierre would prove to be my saviour and I, in turn, his. He is from Jo burg and is doing his first IM and is in trouble on the run. We buddy up and spend most of the last 21K running as opposed to walking. We complete lap 2 and we are joined by a third, Andy Stockwell, a local guy again doing his first IM. We form a great trio and although the last lap is not without pain, the camaraderie will be the memory that lingers longest. Andy has brief visions of breaking 12h30 but JP and I are happy with our 12:45 ETA. The guys are really delighted to be finishing their first IMs JP is 33 and has done a fair amount of cycling and although he has lost some weight in training, still wants to shed a few more of his 90Kilos. Andy is only 23 and has done some world class rowing at college, even been over to England to compete against our guys. He is 82Kg of solid muscle and used to do 4 hour cool down training rides in the afternoons as part of his rowing training camps. The light is fading now but our spirits are rising as the last few kilometers are eaten up. My polar run speed sensor has proven to be remarkable accurate and we are counting off the distance every 200 meters from about 5K out. We eventually approach the filter lane off to the chute and make the final run in. Jean-Pierre grabs his two young boys and the 5 of us, hand in hand give the finish line photographers their busiest few moments of the evening. So there it is. Number 4 in the books and still a 100% completion record for my IMs. New challenges, new problems, new lessons learned and new friends made. I hope that never changes for me in all the IMs I hope I will do in the future.

And now….Well the preparation will soon be starting for IM France-Nice and the IMSA experience will be invaluable in what I think is my best shot at at Hawaii slot this year. In short here are the things I learned in doing IMSA that I need to correct for the next race.

* Meals on the day before the race, less food and earlier.
* Work consistently on the bike fit in training and report back on the run feeling after different fits.Long cycle sessions permanently in Aero position with 18K runs afterwards.
* Goal is to do 4 hours bike at 35Kmh followed by 18K run in 90 minutes with out stiff back or legs.
* Bike glasses can be taped to bike, don't need to be in bike bag.
* Start polar speed sensor before putting on shoes to avoid waiting
* Have some sunscreen in sachets on the bike